The ECI Secretariat functions as the coordinating hub for the worldwide movement. Based at the United Nations-mandated University for Peace in Costa Rica, the ECI Secretariat promotes the mission, vision, strategies and policies adopted by the ECI Council.
The Secretariat guides and make connections with individuals and organizations to bring the Earth Charter to people from different fields, such as education, youth, business and religion. It manages communications with the larger Earth Charter movement, and promotes the use of the Earth Charter as an international soft law document.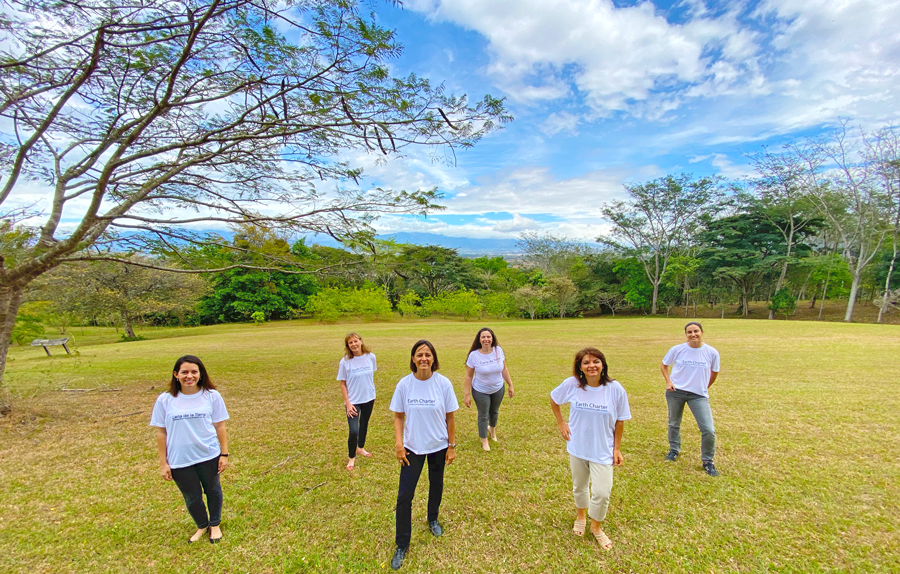 Dialogue
ECI consistently engages in and organizes dialogue to expand understanding and awareness of current and challenging issues. In addition, there are many initiatives around the world that continue to emerge that share core elements with the EC Initiative's mission and vision, for which a constructive dialogue can prove to be very positive.
In this regard, the ECI Secretariat:
Facilitates dialogue, stimulates and exchanges views on initiatives and principles of sustainability.
Supports key international discussions, efforts, and initiatives.
Engages the Earth Charter network on global governance initiatives.
The ECI Secretariat has developed and continues to develop resource materials, webinars and podcasts to strengthen and stimulate new and ongoing dialogues.
Our team
Mirian Vilela
Read more Close description
Mirian Vilela is the Executive Director of the Earth Charter International Secretariat and the Center for Education for Sustainable Development at UPEACE, Mirian has been working with the Earth Charter Initiative since early 1996. She coordinates the UNESCO Chair on Education for Sustainable Development with the Earth Charter and served as a member of the UNESCO Expert Reference Group for the Decade of Education for Sustainable Development (DESD). Over the years she has lead and facilitated numerous international workshops, courses and seminars on values and principles for sustainability. Prior to her work with the Earth Charter, Mirian worked for the United Nations Conference on Environment and Development (UNCED) for two years in preparation of the 1992 UN Earth Summit and a year at the United Nations Conference on Trade and Development (UNCTAD). She actively participated in the 2002 World Summit of Sustainable Development, held in Johannesburg, and the 2012 UN Conference on Sustainable Development/Rio+20. Mirian holds a B.Sc. in International Trade and a Master´s Degree in Public Administration from the Harvard Kennedy School of Government, where she was an Edward Mason Fellow. She is originally from Brazil.
Alicia Jiménez
Read more Close description
Alicia Jiménez is the Director of Programmes at the Earth Charter International (ECI) Secretariat in Costa Rica. She is a biologist from the University of Costa Rica, with a MSc in Resource Development from Michigan State University in the US. Since 1998 has been working in the field of conservation and sustainable development. She worked in the IUCN Mesoamerica's Regional Office and the National University of Costa Rica, and has been involved as a visiting professor at the University for Peace. In 2006, she joined the ECI, where she oversees the promotion of the Earth Charter as widely as possible, especially in Latin America, Africa & Middle East and Asia Pacific. In addition, she is involved with the Secretariat's projects on education for sustainable development, facilitaing courses and workshops
Javiera Gutiérrez
Read more Close description
Javiera Gutiérrez is the Communications and Marketing Manager at Earth Charter International. She has more than 10 years of experience in journalism, communications and digital marketing. In the last few years she has specialized in communications about Sustainable Development. She worked at La Nación newspaper, she was later the Managing Editor at La Republica newspaper and she also worked as the Communications Officer at The Costa Rica USA Foundation for Cooperation (CRUSA). She joined the ECI team in 2019. She has a Journalism and Social Information Degree from Pontificia Universidad Católica de Chile, in Santiago, Chile. Javiera is Chilean, Bolivian and Costa Rican.
Irma Verhoeven
Read more Close description
Irma Verhoeven is Programme and Partnership Development Manager at ECI Secretariat. Between 2008 and 2017, she has worked as a teacher, coach, and education developer as a specialist in human-nature relationships, sustainable development, teaching educational skills & communication, planning and organization at Helicon College in The Netherlands. Next to that, she worked at World of Walas since 1998 as project manager, co-founder and educational advisor with a special focus on International Projects on Sustainable Urban Development and Community Development. She also worked at Dudoc Vancouver, Canada and at Dolfinarium Harderwijk as programme developer and at Ivio Wereldschool developing educational materials for E-learning and was distant-coaching expat students. Irma is Dutch and is a high school science teacher by training.
Amanda Bennett
Read more Close description
Amanda Bennett is the Project Assistant at the Earth Charter International Secretariat and the Center for Education for Sustainable Development at UPEACE. She was born in Guanacaste, Costa Rica, and grew up in South Carolina, United States. She earned a Bachelor of Arts in Experimental Psychology at the University of South Carolina, and a Master in Public Policy at the University of Maryland. While studying in Maryland, Amanda interned at the National Center for Healthy Housing and the Fundred Dollar Bill Project. After graduating, she moved back to Costa Rica and taught English in San Pedro for six months, and briefly in Cusco, Peru. Amanda enjoys being back in Costa Rica and visiting its beautiful national parks, beaches, and towns.