"Earth Charter 2020: Turning Conscience into Action for a thriving Earth"
29 June 2020, marks the 20th anniversary since the official launch of the Earth Charter. At this occasion, in the year 2000, a special ceremony was organized at the Peace Palace in The Hague, with the participation of Earth Charter Commissioners such as Wangari Maathai, Maurice Strong, Mikhail Gorbachev and Ruud Lubbers among others. This special event counted with the participation of HRH Queen Beatrix of the Netherlands.
This year, Earth Charter International, in collaboration with various partner organizations, is organizing a series of webinars under the theme "Earth Charter 2020 Turning Conscience into Action for a Thriving Earth". The event will offer a space for presenters and participants to consider the relevance of the Earth Charter to current times, for instance, as an ethical compass for building the "new normal".
This series of webinars will:
Emphasize the importance to continue to expand human consciousness and understanding of the interdependence of our environmental, social and economic challenges.
Provide a space to reflect on current challenges, look back on what has happened over the past two decades, reflect on the relevance of the Earth Charter to currents times and enhance synergies and collaboration towards the realization of the Earth Charter goals.
We hope you can be part of this exciting celebration!
These are open events, but registration is required. Find below registration links for each webinar.
Second Webinar: Turning Conscience into Action in an Interdependent World
Language: English | Date & Time: Monday, 29 June at 9:00am to 11:00am (Costa Rica Time) = 11:00am EST = 8:00am PST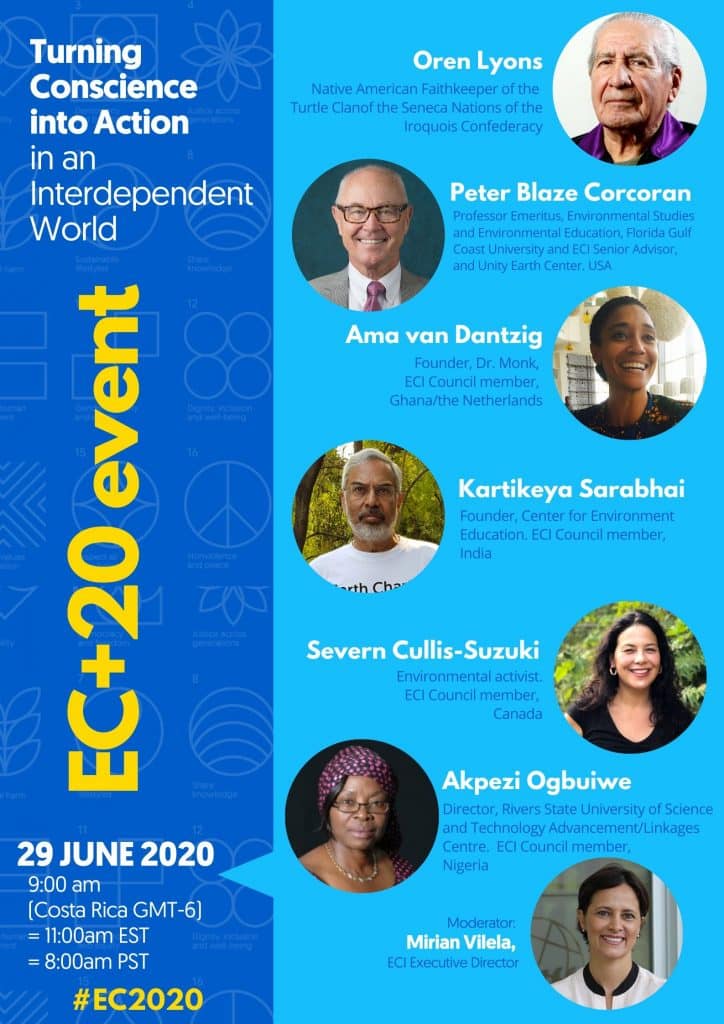 Third Webinar: Turning Conscience into Action in the Transformation of Education Systems
Language: Spanish | Date & Time: Monday, 29 June at 12:00pm to 2:00pm (Costa Rica Time) = 2:00pm EST = 11:00am PST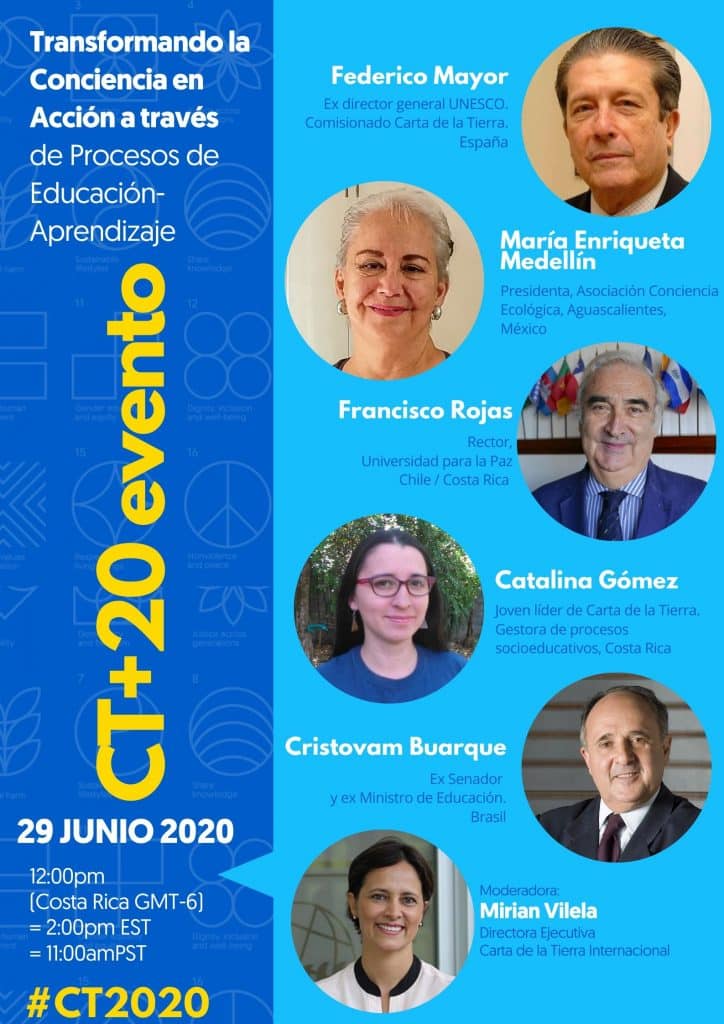 Webinar 4: Festival Carta da Terra – Brazil
Language: Portuguese | Date & Time: Monday, 29 June at 4:00 pm (Costa Rica GMT-6)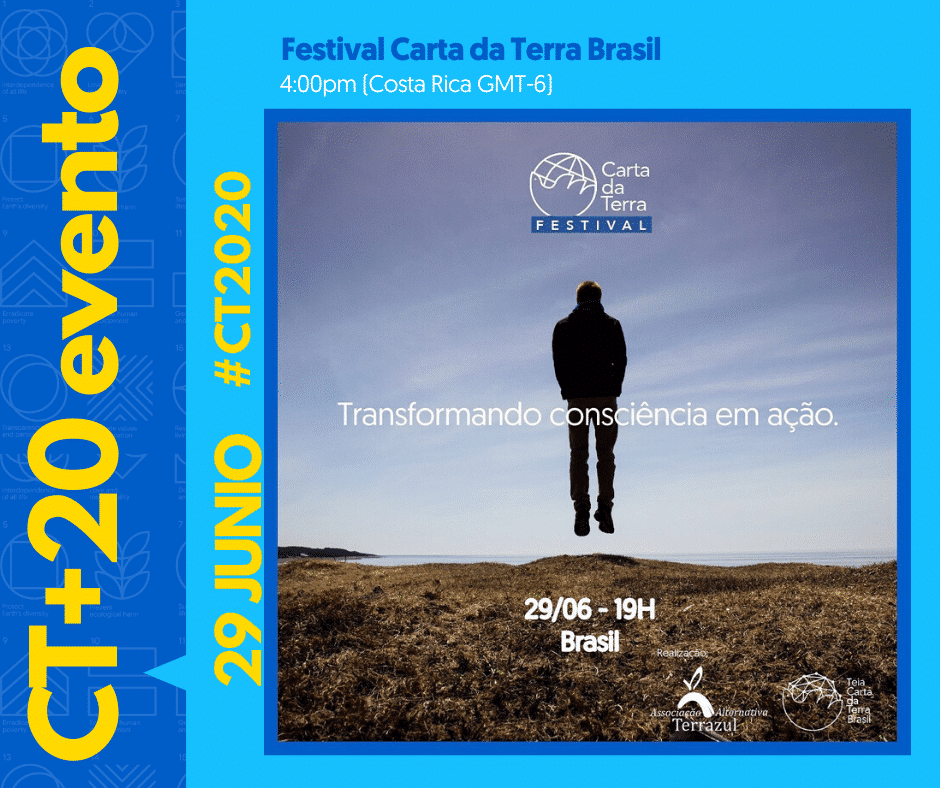 Webinar 5: "20 years building hope with the Earth Charter in Mexico"
Language: Spanish | Date & Time: Tuesday 30 June at 4:00 pm (Costa Rica GMT-6)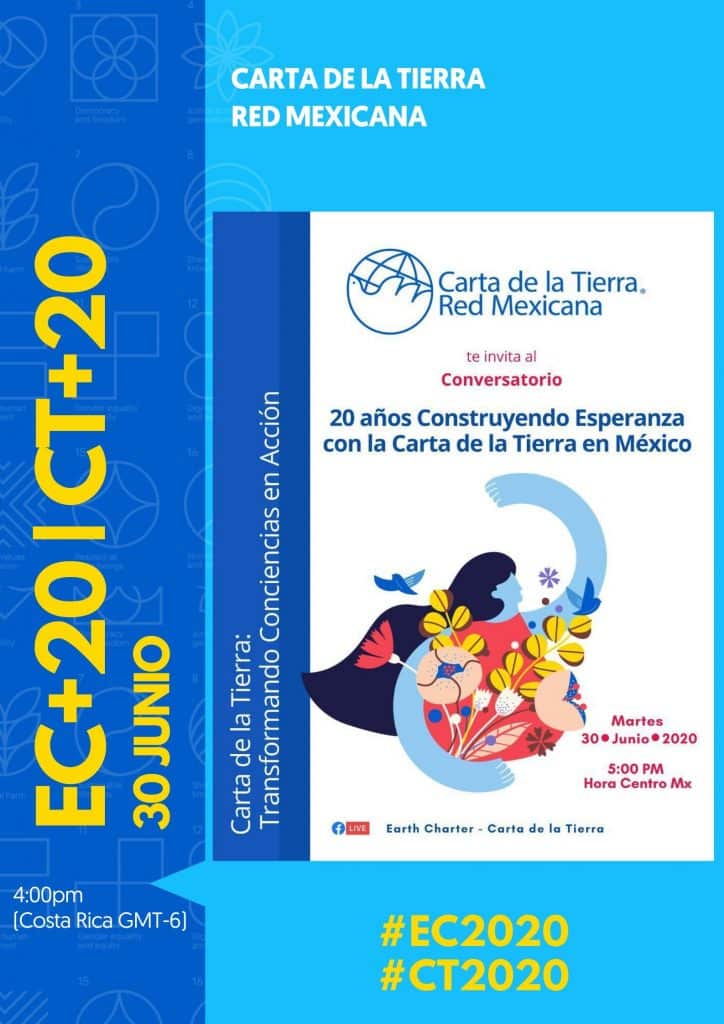 Download the programme here