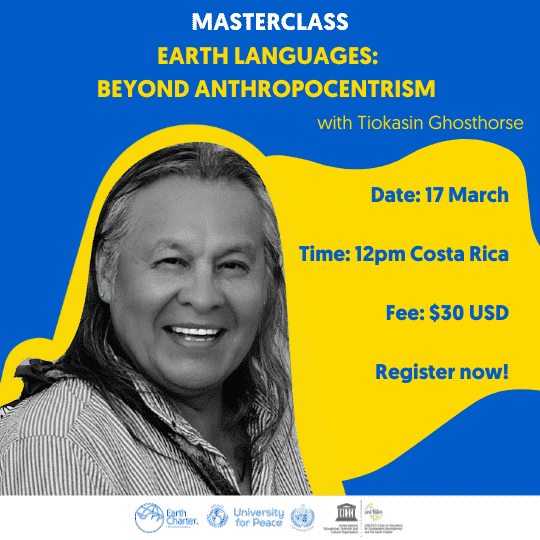 Although the planet is always changing and moving, human beings are accelerating some changes by objectifying Earth and exploiting her as if Earth was ours to possess. This is happening due to a view of separation and disconnection, among other things. In this Masterclass, Tiokasin Ghosthorse, member of the Cheyenne River Lakota Nation of South Dakota with a long history in Indigenous activism and advocacy, will help us see how Earth languages can help us move beyond an anthropocentric worldview. He will share reflections and examples on the meaning of living WITH Earth rather than ON Earth and how the language and words we use influence the way we think and live.
This Masterclass will offer an opportunity to learn about indigenous cosmovisions and spirituality and how this can help humanity move from an exploitative to a more cooperative approach to life. It will also offer an opportunity to expand understanding on non-extractive thinking from the perspective that extractive thinking is not Native, for instance, there wasn't a word or concept for "want" in the old Lakota language. Extractive thinking often goes hand in hand due to the Greek-Latin lexicon.
This masterclass will offer a space to reflect on the following question:
How do the language and words we use influence the way we think and shape our worldviews? 
What does it mean to live WITH Earth rather than ON Earth? 
What can we learn from the Native American cosmovision and spirituality to help us address the current challenge humanity faces? 
How can we take a look at climate justice beyond the lenses of anthropocentrism? 
Tiokasin Ghosthorse
Read more Close description
Tiokasin is the Founder, Host and Executive Producer of "First Voices Radio" Syndicated National/International (formerly "First Voices Indigenous Radio") for the last 29 years in New York City and Seattle/Olympia, Washington. Among other things Tiokasin is involved with the Akantu Institute which seeks to preserve and share knowledge from various wisdom traditions in accessible, relevant formats; and host physical gatherings and ceremonies to deepen the experience of knowledge.

In 2016, he received a Nomination for the Nobel Peace Prize from the International Institute of Peace Studies and Global Philosophy. Other recent recognitions include: Native Arts and Cultures Foundation National Fellowship in Music (2016), National Endowment for the Arts National Heritage Fellowship Nominee (2017), Indigenous Music Award Nominee for Best Instrumental Album (2019) and National Native American Hall of Fame Nominee (2018, 2019). He was awarded New York City's Peacemaker of the Year in 2013. Recently, he was also nominated for "the 2020 Americans for the Arts Johnson Fellowship for Artists Transforming Communities". 
What is a Masterclass?
An Earth Charter Masterclass is a two-hour class facilitated by a person (together with a moderator) on a topic of their experience and interest, with a space for questions and interaction between the participants. It offers an opportunity to get some practical examples and new insights. There is no reading or preparation requirement to take part in the Masterclass, nor homework.
Our Masterclass series offers an opportunity to expand our understanding on the challenges of our time and how to address them using the Earth Charter as a reference. The Masterclass are held live on the Zoom platform. All recordings will be made available on a special platform (at a later moment and for a limited access). To receive access to all these recordings please register here. Learn more about our Masterclass Programme in English, Spanish and Portuguese.
Terms and conditions
If you take 5 masterclasses you can receive a certificate of participation.
If you want to register for all the Masterclasses of the year you can do so for US $ 200. Click here to see the other masterclasses of 2022.
If you cannot participate in the Masterclass that you have registered and paid for, we will not be able to issue a refund.
Access to the recordings of the Masterclasses will not be offered individually. For an annual fee of $150 you can access all the recordings for the year. Click here to receive access to all the recordings.