The University De La Salle and Earth Charter International in Costa Rica are jointly offering the Master's Degree in Environmental Management and Sustainable Development, with the conviction of promoting leadership among professionals who decide to access this postgraduate programme and acquire the necessary skills for the efficient and adequate management of natural resources, grounding this knowledge in environmental management and the need for technical and operational transformation of organizations.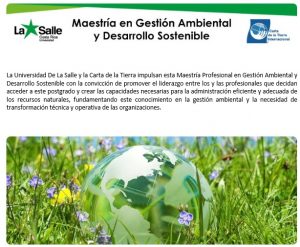 This Master's Degree programme is based on the holistic vision of the Earth Charter, and has the institutional support of the Earth Charter International Secretariat. In this sense, the graduates of this Master's Degree will be able to access and be involved in the global network of The Earth Charter.
The classes will begin on September 9, 2017, at the headquarters of University De La Salle in Sabana Sur, San José, Costa Rica.
For more information on this programme go to: http://www.gestionambientalulasalle.com/