A meeting of UNESCO Chairs entitled Linking Education, Transdisciplinarity and International Partnership took place in Wuppertal, Germany from 2 to 4 December 2019 with the purpose of providing a space to exchange information, experiences and strengthen possibilities of collaboration among UNESCO Chairs. Sessions and conversations focused on the role UNESCO Chairs have in supporting the United Nations 2030 Agenda, as well as the new Global Framework on Education for Sustainable Development (ESD) for 2030 that UNESCO is launching.
This was the first international UNESCO Chairs Conference convened and organized by the UNESCO Chair in Entrepreneurship and Intercultural Management, University of Wuppertal, in cooperation with the German Commission for UNESCO and with the support of the German Federal Foreign Office.
Here is a brief overview:
The meeting opened with remarks by Lambert T. Koch, Rector of the University of Wuppertal and main host Christine Volkmann, UNESCO Chair in Entrepreneurship and Intercultural Management, who expressed keen interest in collaborating with UNESCO Chairs from other countries.
Charles Hopkins, UNESCO Chair in Reorienting Education towards Sustainability, from York University, offered a presentation on "Opportunities and Challenges of the Worldwide Network of UNESCO Chairs." He stressed the importance to find ways to bring UNESCO Chairs, working specifically on ESD, to collaborate. He raised a number of questions such as: What is the role of education in current times with all the urgent challenges that need to be addressed and the need to move from policies to practice? And How can we reorient the purpose of education in such a way to make it a key driver to sustainability?
Mirian Vilela, ECI Executive Director and UNESCO Chair on Education for Sustainable Development with the Earth Charter, University for Peace, gave a presentation on "Rethinking the Education Experience to Nurture the Best in the Human Essence: the Capacity to Care." In this presentation, Vilela offered an overview of the work undertaken by a network of Earth Charter partners from around the world to cultivate sustainability values.
Bianca Bilgram, Head of the "Education for Sustainable Development" Office of the German Commission for UNESCO, who offered a presentation on the new UNESCO "ESD for 2030" Framework.
Katrin Kohl, from the UNESCO Chair in Reorienting Education towards Sustainability, York University, Toronto, who gave a presentation on "the Future of Education in the Context of the SDGs."
On this occasion, a number of best practices and research were shared on topics such as:
"Biosphere Reserves as Learning Territories for Regenerative Development" presented by Tania Moreno, UNESCO Chair on Biosphere Reserves and Natural World Heritage Sites, Universidad de Cooperacion Internacional (UCI), Costa Rica. Moreno indicated that they are working closely with the biosphere reserves of Central and South America, strengthening the management capacities of institutional and local actors, as well as developing methodologies, programmes and projects to put regenerative development approach into practice at the bioregional level.
"Analyzing Students' Conceptions of Sustainable Development: Insights from a Longitudinal Study on Sustainability Related Learning Processes at Leuphana University" presented by Anna Sundermann, UNESCO Chair in Higher Education for Sustainable Development, Luneburg, Germany. Professor Sundermann indicated that this study offers a first systematic examination of how students' sustainability conceptions change during their course of study at Leuphana University.
"SDG 4 meets SDG 16 – The Transnational Project 'Exploring Visual Cultures,'" which was presented collectively by Esther Kibuka-Sebetosi, Institute for African Renaissance Studies, University of South Africa; Paul-Henri Assako, Department of Arts and Archeology, Cameroon; Patrique deGraft-Yankson, Department of Art and Design Education, Ghana and Ernst Wagner, executive coordinator, UNESCO Chair in Arts and Culture in Education, University of Erlangen-Nuremberg, Germany.

In this project, African and European universities are collaborating with the goal to develop teaching materials that ensure quality education (SDGs, Goal 4) through global partnership (Goal 17). As part of this effort, visual objects (art works, design, media, architecture, crafts, symbols etc.), that are relevant in education, are identified to stimulate dialogue on SDGs in the classroom. Then space is offered to exchange and dialogue on multi-perspective interpretations and artistic responses. This experience seeks to explore the cultures of people using visuals in the process of teaching sustainability.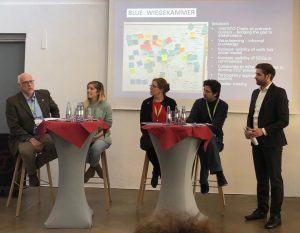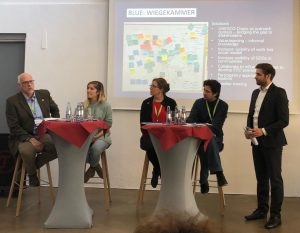 The Conference generated the following statement:
https://www.unesco.de/sites/default/files/2019-12/Wuppertaler%20Erkla%CC%88rung.pdf?fbclid=IwAR2l23UIm1YwuOkKQgdhmT3VXUPmGKcRwCEFqWbDTgvLEUivoz99CsARAH8
Click here for more:
https://www.unesco.de/bildung/unesco-lehrstuehle/unesco-lehrstuehle-verabschieden-wuppertaler-erklaerung