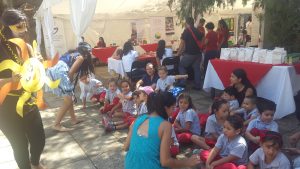 The Earth Charter International Secretariat joined Earth Day Celebrations organized by the National University of Costa Rica. On Friday morning, April 22nd, the National University (UNA) endorsed the Earth Charter with a ceremony attended by the President of the Republic of Costa Rica, Luis Guillermo Solís, the Vice Ministers of the Environment, and the Rector of the University.
The endorsement expressed the commitment of this academic institution in the following terms:
"We commit to using the Earth Charter as an ethical framework and guide for action and decision making, for inclusive development, and the implementation of policies, plans, strategies, and methodologies and as an educational instrument that allows for the sustainable development of Costa Rica and Central America under the vision and goals to seek a more just, sustainable, inclusive, diverse, peaceful, and united world".
Having declared 2016 to be the year of the Universities for Mother Earth, an initiative led by the National University and embraced by all the public Central American Universities, the Earth Day celebration was of great importance for the UNA community.
The focus of the celebration, which was organized by the UNA Institutional Commission on Mother Earth and the School of Geographical Sciences, was to raise awareness of the relationship of respect between human beings and the environment and to denounce any violation of rights, an act which necessarily results in the degradation of the environment in which we live.
It is important to acknowledge that this Earth Day, at the United Nations in New York, the Paris Climate Agreement was signed by 175 world leaders.