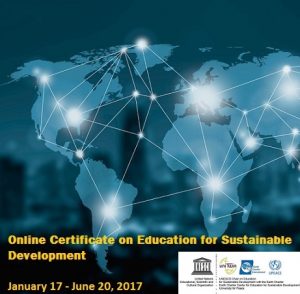 "This ESD diploma and its great content has shifted my look at many topics and changed my teaching experience so far. Before I used to concentrate more on knowledge and data, now I go beyond. I see the links between knowledge, ethics and values more clearly".   – Nehal L. Khalil, PhD (Egypt).
We are grateful to have successfully concluded the "Online Certificate Programme on Education for Sustainable Development", offered jointly by the Earth Charter Center for ESD and the University for Peace.
This unique programme is designed to provide participants with the understanding, knowledge, and skills to integrate Education for Sustainable Development and Education for Global Citizenship into classrooms, schools, and curricula with depth and creativity. Unlike most programmes in sustainability, in these courses the Earth Charter (EC) is used as a central feature of this approach. The EC provides a broad, inclusive and powerful values-based orientation that can be infused within the missions and purposes of most educational programmes. Instructionally, the methodologies introduced are ones that can be applied to all learning across the curriculum and across grade levels.
This Programme started on 17 January and finished on 20 June 2017.  Twenty participants from fifteen different countries, representing all regions of the world, successfully finished this Programme.
The Programme has four courses, which are:
A Planetary Perspective: Toward a Culture of Peace, Sustainability, and Well-Being – Facilitators: Lorna Down and Rosalyn McKeown
Values and Principles for Sustainability: The Earth Charter as an Ethical Framework and a Call to Action – Facilitators: Mirian Vilela and Alicia Jimenez
Transformative Learning and ESD: A Holistic Pedagogy Grounded in the Neurosciences – Facilitator: Sam Crowell
The Way Forward: Models and Skills for Implementing ESD with the Earth Charter – Facilitator: Mark Hathaway
We look forward to start a new Online Certificate Programme on ESD in 2018! 
If you are interested, please visit this page:  https://earthcharter.org/events/online-certificate-education-sustainable-development-2018/   or contact apply@earthcharter.org to receive information.