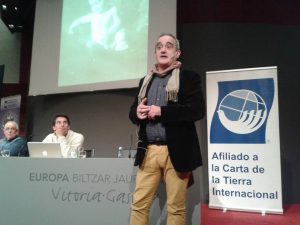 On April 23rd and 24th the Conference ¨Common Good, Ethics, and Values¨ took place in Europa Congress Palace Vitoria, Spain, organized by Fundación Valores in collaboration with Asociación PlanBIKO and the City Hall of Vitoria-Gasteiz.
The Conference is part of the project ¨Utopias for a better world¨, and its common thread was the Earth Charter, which was highlighted in the speech of María José Carrillo, Fundación Valores President. The text of the Charter was also present in the conference room in a large roller.
Two hundred people participated from different parts of Spain. They listened, discussed, participated and were very excited in all the different sessions. One of the reflections that emerged was that the world is the opposite of how it should be, and that we can and must do something for it to be able to regain its natural, social and cultural harmony. Speakers included leading experts such as Paco Álvarez, Diego Isabel La Moneda, José Esquinas, Juan Torres, Arturo Boyra, Javier Goikoetxea, Fidel Delgado and María Pinar Merino.
The presenters described the distortion currently suffered in the economy, the loss of values and possible alternatives to remedy the planet´s situation, which they consider its sailing aimlessly because no one knows where the socio-economic model is leading us, but it seems to be moving away from the horizon of happiness that we as a species aspire to achieve.
More information on this congress can be found in this article by  Revista Tendencias 21