The Ecumenical One World Initiative organized a weekend of learning, celebrating, and looking to the future
Guest post by Douglas F. Williamson
Last year while I was still on staff at Earth Charter International, I had the chance to tra
vel to Germany and meet some of the members and staff of Earth Charter Germany. The EC efforts in Germany are organized and led under the Ecumenical One World Initiative (EOWI), which turned 40 years old this year, and they invited me to come over from Berlin to celebrate and share my experiences with and knowledge of the Earth Charter and how it works around the world.
EOWI held this celebration in Burg Bodenstein (Bodenstein Castle) in the region of Thuringen, formerly of East Germany with about 100 participants. The castle is from the middle ages and the place has been settled for around 1,000 years. The landscape is farmland and forests on rolling hills and there is a rural tranquility of greens, browns, and yellows along with the spring chirping of many birds. The castle and its surroundings made for an excellent place for the celebration with many smaller and larger common rooms for sharing, learning, lectures, workshops, and prayer and meditation sessions.
The Earth Charter was known by all the participants to varying degrees. There was one participant who had been at a 1998 drafting session in Assisi, Italy even. Others were aware of the document and its use by EOWI in Germany, but were not at all aware about the global Earth Charter movement. This is where my presence was very useful. More on that later.
The event began on Friday evening after dinner and a prayer ceremony in the small Castle chapel. In the large Castle Chamber, all the participants were treated to a performance by the Freiburg Scientific Theatre group. This group performs short scenes and performance pieces that artistically reflect on social and environmental issues and they are in part inspired by the Earth Charter. The theatre performance was followed by a musical show by a singer/songwriter named Cat Balou. Following the performances, there was a general social gathering.
The following day there was a lecture and discussion led by Professor Gerald Huether. Originally a neuro-surgeon, Prof. Huether refocused his interests and talked about his research in education and co-creation. There were many points that related to the Earth Charter and the Earth Charter pedagogy developed at the Earth Charter Center for ESD in Costa Rica. One of the salient points made by Prof. Huether was about moving away from educating and moving towards creating spaces or platforms where people can co-create and learn by themselves. The lecture provoked an engaged and interesting discussion.
In the afternoon, there were many smaller groups and workshops, discussions on topics of relevance and interest to the participants, including a session that used movement and theatre. After dinner, there was an event commemorating 40 years of EOWI and looking forward to the future. This hour and a half long session was organized around three sets of interviews, the last of which I participated in as an interviewee along with Anja Becker who is one of the staff members of OEWI working with the Earth Charter in Germany. In the interview, I spoke about Earth Charter International, the link to the Sustainable Development Goals, the spiritual aspects of the Earth Charter and of sustainability work generally, and the general utility and beauty of the Earth Charter document.
Following the interview event, there was a bonfire below the Castle walls, a dance party, and a general social event for talking and networking.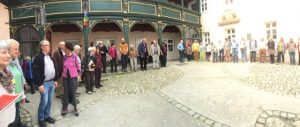 On Sunday morning, there were once again several different small groups and workshops, including a choir practice for a performance at a spiritual ceremony to close the event, and also I offered an hour-long session on Earth Charter International exclusively. During the session, which was attended by around 20 people, I was able to go more in depth about the work of Earth Charter International, especially regarding its work on the Global Action Programme for ESD of UNESCO, explain more in depth how the EC and ECI came to be, how ECI functions globally, and what challenges the EC faces for the future. It was lively and fun and it was good to see how much I know about the Earth Charter and that I can share and inspire people talking about it.
The event was an inspirational success and it was great for me to become a part of the Earth Charter Germany network and get to know many of its members more intimately. I am sure that I will have further opportunities to work with EC Germany and continue to foster EC values as part of the global Earth Charter Initiative.