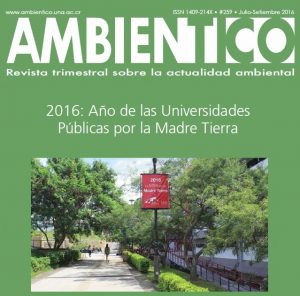 We would like to share the October 2016 issue of Ambientico Magazine, published by the School of Environmental Sciences at the National University of Costa Rica. The publication develops an analysis of the work that has been done in 2016 in the public universities of Costa Rica, as part of the initiative of the Universities for Mother Earth year.
This volume includes an article on the Earth Charter and its integration in efforts to hold, within the universities, an ethic of respect and care for Mother Earth.
This issue of the Ambientico magazine is available here (available in Spanish only). To have access to the printed version please write to: ambientico@una.cr
Content of this issue:
José Luis Zúñiga Zúñiga. EARTH ASKS FOR JUSTICE
Gerlin Salazar Vargas. ENVIRONMENTAL MANAGEMENT MODEL AT THE UNIVERSITY OF COSTA RICA.
Emmanuel González Alvarado. SPATIAL DESIGN AND ENVIRONMENTAL SUSTAINABILITY: THE EXPERIENCE OF THE CENTRAL CAMPUS OF THE NATIONAL TECHNICAL UNIVERSITY.
Noelia Garita Sánchez. COMMITMENT OF THE NATIONAL UNIVERSITY TO ACHIEVE SUSTAINABILITY.
Alicia Jiménez Elizondo. THE EARTH CHARTER: ETHICS FOR SUSTAINABILITY IN THE UNIVERSITIES FOR MOTHER EARTH YEAR.
Soraya Uroz. FOOD SOVEREIGNTY AND SURVIVAL OF MOTHER EARTH: THE IMPORTANCE OF AGROBIODIVERSITY.
José Millán Araujo. GOOD LIVING: ALTERNATIVE PARADIGM OF EDUCATION AND DEVELOPMENT?
OTHER SUBJECTS
Helven Naranjo-Madrigal. THE URGENT NEED FOR AN INTEGRATIVE RESEARCH CENTER IN FISHERIES.