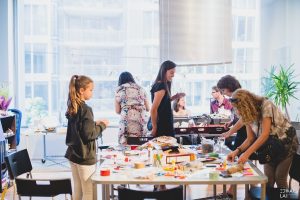 On June 29th, Earth Charter Canada and the Vancouver-based Walas family celebrated Earth Charter Anniversary, at Dudoc Vancouver.

Around 100 people attended to celebrate, share their stories, and learn more about the Earth Charter.
The evening
brought together local businesses, artists, and changemakers who share the values and principles of the Earth Charter based on respect for nature, universal human rights, economic justice, and a culture of peace. Celebrations included live music, art, crafts and a mini-fair.
Attendees made wishes for the Earth, and found many common themes.
The graphic below represents many of the wishes.