My name is Esther Abgarakwe. I´m from Nigeria. My friends call me ¨Esther Climate¨—it´s a long story! I started an Earth Charter Youth Group in 2006 in Calabar. At that time, the Earth Charter was active in Nigeria but there was not much youth participation. It really pushed me to lobby and advocate for youth participation on environmental issues.
At that time, I participated in an Earth Charter E-Glo (Earth Charter Global Learning Opportunity) training programme that taught me a lot about social media. My first contact with blogging was through that programme and my blog won me a scholarship to go to a Conference in Scotland. That was my first travel abroad experience, and from that conference I met amazing people like the Elders. I asked one of them an interesting question in that forum and that sort of got me remembered around the world.
Since then, I have been working with the Elders for many years, now with a project call the Elders + Youngers project. It has been the biggest project of my life because I´ve gotten to work with four amazing people: Mary Robinson, Gro Harlem Brundtland, Desmond Tutu, and Fernando Cardoso.
From the blogging I learned from E-Glo, I´ve continued blogging a lot. Blogging has given me the opportunity to talk about so many things I like. One of the micro-blogs I use a lot is Facebook. On Facebook, I changed my time to ¨Esther Climate¨ because I wanted to interrupt conversations about politics among young people and intercept that with environmental issues and climate change—so I changed my name to ¨Esther Climate.¨
And the name stuck. When people see it, they pause and think, ¨Why Esther Climate?¨ And that´s an opportunity to change someone´s mindset, to raise awareness or improve knowledge in someone around environmental issues. They would ask the question about the name, and I would reply ¨Yes—this is what it means…¨ and then talk to them about climate change.
My favorite Earth Charter Principle is the first one- Care for the Community of Life. I love it because it makes me feel more connected to the human species and everything that is on Earth—whether it is a fly, a human being, or a plant. The Earth Charter was really my first entry into environmental issues. Its principles expanded my mind to see things differently (unusual as it may be where I come from). It could really interest you to know that Earth Charter covers a whole wide range of issues, from faith to humanity.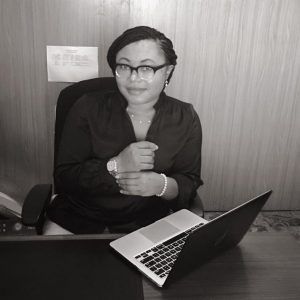 Now I work as an Advisor to the Minister of the Environment. This is my career now; I think I´ll do environmental work for the rest of my life. And the [Earth Charter] Principle is still there.
When I was invited to join the Minister of the Environment as an Advisor, it was a dream come true. I accepted it of course! [Deputy Secretary General-Designate Amina J Mohammed] is an amazing person and [this job] has been the best thing of my life. I can see hands on the change I wanted to see happen. I'm the only young advisor—but it´s [youth] participation. We are moving from rhetoric to action. Young people have a lot of offer—they have experience, they have a vision, they are creative, and can do a lot!
Right now, I do a lot with technology which plays a big role in my work in terms of mobilizing young people—not only mobilizing them, but also empowering them, connecting them to resources, and giving them an opportunity to be informed on issues that affect them. In the next 40 years, they may have to lead.
I do all the creative stuff in the Ministry—communications, stake holders engagement, traveling around to all these Conferences to help to lobby because I understand the dynamics.
It gives me renewed hope that young people are now at the table, not just on the menu. The government recognizes their importance now. I remember when we used to scream and shout ¨I want to be involved! I want to be involved!¨ Now we are involved. That´s the biggest thing that´s happening for us.
I have my Earth Charter in Action book in my room. I don´t joke with it. I read it a lot. It reminds you where you´re going. It gives you that inspiration to keep going because it´s hard sometimes. It´s fun a lot of the time, but you always get to a crossroad at some point in your life. You have to look back and see that we´ve come a long way.
Watch Esther's Earth Charter Youth Story below:

---
This interview of Esther Kelechi Agbarakwe was conducted in November 2016 by Earth Charter International Youth Projects Coordinator, Sarah Dobson, at COP22 in Marrakech, Morocco. The content has been edited for clarity and flow.