We are delighted to invite you to celebrate Mother Earth Day participating in a conversation with two inspirational speakers: Satish Kumar and Lynne Twist.
Date and Time: 22 April 2021, 8:00am Costa Rica time (10:00am ET).
Mirian Vilela, Earth Charter International Executive Director will be guiding a conversation with these great thinkers and activists on the theme: Restoring our Relationship with Earth: An Educational Approach to a New Civilization.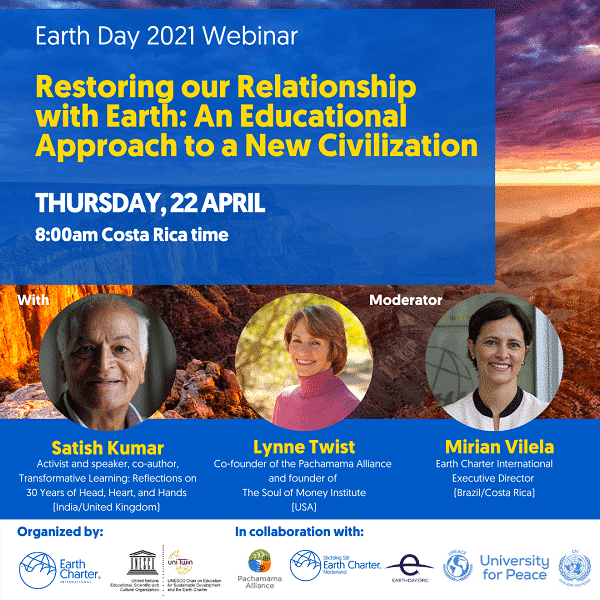 Some of the questions that will be addressed are:
What is the kind of education that is needed to address the challenges of current times?
What are the keys of transformative learning?
How could the connection with nature be included in education processes?
The Earth Charter mentions: "We must realize that when basic needs have been met, human development is primarily about being more, not having more". How can we cultivate that?
A bit more about our guest speakers…
Satish Kumar
Satish has devoted his life to campaigning for ecological regeneration, social justice and spiritual fulfillment. He co-founded the Schumacher College, serving as its programme director from 1991 to 2010, as well as The Resurgence Trust, an educational charity that seeks a just future for all.
In his youth, as a effort to advocate for nuclear disarmament, Satish embarked on an 8,000-mile peace pilgrimage. Carrying no money, walking from India to America, via Moscow, London and Paris, to deliver a humble packet of 'peace tea' to the leaders of the world's then four nuclear powers.
A former monk and long-term peace and environment activist, Satish has been quietly setting the Global Agenda for change for over 50 years. He was just nine when he left his family home to join the wandering Jains and 18 when he decided he could achieve more back in the world, campaigning for land reform in India and working to turn Gandhi's vision of a renewed and a peaceful world into reality.
Satish appears regularly on podcasts, radio and television shows. He has been interviewed by Richard Dawkins, Russell Brand and Annie Lennox, appearing as a guest on Radio 4's Desert Island Discs, Thought for the Day and Midweek. Satish presented an episode of BBC2's Natural World documentary series, which was watched by 3.6 million people. An acclaimed international speaker and author, Satish's autobiography sold over 50,000 copies, inspiring change around the world.
To join Satish in protecting people and planet, become a member of Resurgence (with 20% off), entitling you to this charity's change-making magazine, Resurgence & Ecologist. (Reference: Schumacher College)
Lynne Twist
Lynne Twist is a co-founder of The Pachamama Alliance, and founder of The Soul of Money Institute. She has dedicated herself to alleviating poverty and hunger, and supporting social justice and environmental sustainability. From working with Mother Teresa in Calcutta to the refugee camps in Ethiopia and the threatened rain forests of the Amazon, Lynne's on-the-ground work has brought her a deep understanding of the social tapestry of the world and the historical landscape of the times we are living in. Her 40+ years of global work are testament to her commitment to alleviating poverty and hunger and supporting social justice and environmental sustainability.
In 2003, Lynne founded The Soul of Money Institute. The Institute is a center for exploring and sharing the best practices, theories, and attitudes that enable people to relate to money and the money culture with greater freedom, power, and effectiveness. Lynne's book, The Soul of Money, is a wise and inspiring exploration of the connection between money and leading a fulfilling life.
Her compelling stories inspired Lynne to write her best-selling, award-Her journey has led to features in over 10 films, including: "The Shift" (Michael Goorjian, 2010), "Crude Impact" (James Jandak Wood, 2006) and "Women of Wisdom and Power" (Lili Fournier, 2000) and "Money & Life" (Katie Teague). Lynne's work around the world earned her an Honorary Doctor of Humane Letters from Centenary College, and numerous awards including the United Nations Woman of Distinction award, honoring her work to end world hunger and the Purpose Prize Fellow. (Reference: The Pachamama Alliance)
This event is being organized in collaboration with:
Pachamama Alliance, Earth Charter Friends of Netherlands, Earth Day Network and the University for Peace
On the same day, Earth Charter International will be organizing a celebration for Mother Earth Day in Spanish; with two inspirational speakers: Leonardo Boff, philosopher and theologian, Earth Charter Commissioner, Brazil and María Novo, UNESCO Chair on environment education and sustainable development, UNED, Spain.