From the 23-25 August 2018, youth from the 54 different African countries converged at the United Nations office in Nairobi, Kenya for the UN Sustainable Development Goals – Africa Youth Conference. The
conference was initiated with the theme "Unleashing the potential of Youth in Africa – Prioritizing Investment in Youth Development in the Post 2015 Agenda." Participants hailed from countries like Cameroon, Sierra Leone, Ghana, Kenya, Uganda, Tanzania, Gambia, Democratic Republic of Congo and South Africa. It was majorly sponsored by UN Women- Africa with participants coming from social entrepreneurship spaces. As an ECYL, I was excited to attend this forum as it was an inculcation and combination of the Earth Charter Principles.
The conference was covered through a varied set of sessions with different themes for each day. One of the sessions that related to social enterprises included a discussion on the position of youth in creation of successful enterprises. It covered challenges and opportunities that youth face through a discussion with different panelists. In the same way, we were also able to understand the importance of pitching initiatives. An example presented was the story of an innovative youth from Egypt who uses waste from farms in the rural areas of Egypt to create sustainable wood for construction in order to reduce deforestation. There was also another youth from Cameroon who uses innovative ways to reduce waste in the urban areas. This aligns with principle (5a) of the Earth Charter: Adopt at all levels sustainable development plans and regulations that make environmental conservation and rehabilitation integral to all development initiatives.
As a bonus, the conference had been occurring in alignment with UN day. As participants, we were invited to take part in the celebrations. It was graced by the Ministry of Foreign Affairs in Kenya, youngest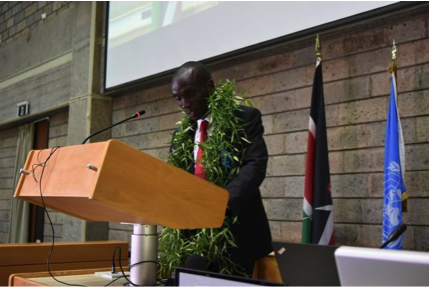 Governor from Nandi County, UN heads in Africa and the UN person of the Year – Eliud Kipchoge. He was awarded for his finesse work in prevention spreading of HIV/AIDS in Kenya as well as being a pillar of inspiration to the youth. Some of the break-out sessions that I was privileged to attend were on "She leads Africa – The Dichotomy of Business for a Millennial which discussed the challenges women face in the work place or in consultancy spaces. I was also able to attend a conference on "Understanding and Breaking the Cycle of Technology Assisted Violence" which focused on the issues of cyber insecurity. These aligned with Principle (10) of the Earth Charter: Ensure that economic activities and institutions at all levels promote human development in an equitable and sustainable manner.
On the last day, we had an interactive session on 'HeforShe,' where discussions were focused on Gender Based Violence, Gender Equity discrimination, harassment and abuse. The sessions had various panelists who had real experiences with these issues which gave a new twist to try in drawing solutions equally. A solution that came out was the education of children from a young age on the effects of Gender Based Violence. This is because we identified that the cycle begins at home, once a child is chastised or battered, they tend to carry the same trend to adulthood. In the same way, men and women go through various forms of violence and use revenge as a way to build their own self-assurance. These issues resonate with Earth Charter Principles 9c and 11:
Recognize the ignored, protect the vulnerable, serve those who suffer, and enable them to develop their capacities and to pursue their aspirations. -EC Principle 9c
Affirm gender equality and equity as prerequisites to sustainable development and ensure universal access to education, health care, and economic opportunity. -EC Principle 11
A testimony that brought about these talks was about Jaha Dukureh, an activitist from Gambia who was named the UN Women Goodwill Ambassador for Africa for the work she does against FGM and early child marriages. In the end, the team was presented with a youth for Action booklet which would be used in future youth sustainability movements.
All in all, the event was a change maker. I remember a statement mentioned that "Africa is the richest continent in the world in terms of resources, but the poorest in terms of growth." Huge investments come to Africa each year from Multinational companies, Governments and different stakeholders. However, there is an increase in economic refugees from Africa due to corruption, war and instability. This conference brought about a great magnitude of hope for African entrepreneurs who beat the status quo to build change in the society. Participants with various top ideas in the Democratic Republic of Congo, Kenya, Uganda, South Africa, Cameroon and Egypt among others were further awarded.
Written by: ECYL Pendo Muthiora (Nairobi, Kenya)
For more event information: http://africa.unwomen.org/en/what-we-do/youth-programming