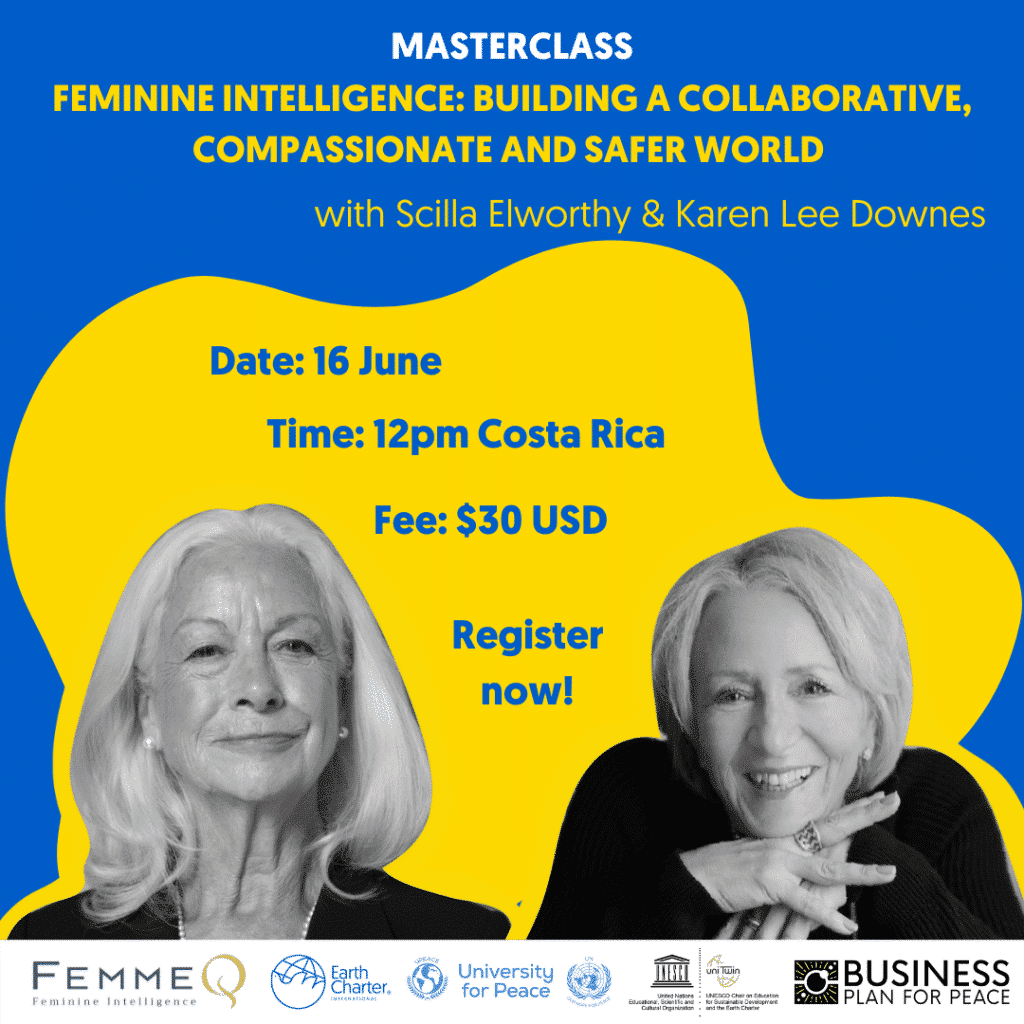 This time we are living in, is disruptive and challenging, asking more of us than ever before. Violence against women has escalated in our homes as well as where women publicly use their agency to protect what they care about. Divisiveness and despair is increasing. At the same time, people are waking up and acknowledging that a new kind of intelligence is needed to shape our future, we call this FemmeQ.
During our time together we will discover:
Understanding what feminine intelligence really means
How we can access feminine intelligence; 'seeing the world with new eyes'
Why embodying and leading with feminine intelligence transforms the challenges we face
How to practice the skills that are useful to address our most pressing issues
Scilla Elworthy
Read more Close description
Three times Nobel Peace Prize nominee for her work with Oxford Research Group, founder of The Business Plan for Peace https://thebusinessplanforpeace.org to help prevent violent conflict and build sustainable peace throughout the world. Awarded the Niwano Peace Prize in 2003 and the Luxembourg Peace prize in 2020. Author of 10 books, the latest of which is The Mighty Heart: how to transform conflict (2020), which is now an on-line course.
Karen Lee Downes
Read more Close description
Founder of The Flourish Initiative, advisor to business, consultant and coach to leaders who are committed to creating a flourishing future. Programme design & facilitator in Transformational Leadership. Co-founder FemmeQ, a global movement restoring integrity to our human and social systems, by applying feminine intelligence in how we live and lead. Creator and facilitator of the online webinar series; The 12 Virtues: Architecture of the Soul.


This Masterclass is developed under the UNESCO Chair on ESD with the Earth Charter as a collaborative project between ECI and FEMMEQ.
What is a Masterclass?
An Earth Charter Masterclass is a two-hour class facilitated by a person (together with a moderator) on a topic of their experience and interest, with a space for questions and interaction between the participants. It offers an opportunity to get some practical examples and new insights. There is no reading or preparation requirement to take part in the Masterclass, nor homework.
Our Masterclass series offers an opportunity to expand our understanding on the challenges of our time and how to address them using the Earth Charter as a reference. The Masterclass are held live on the Zoom platform. All recordings will be made available on a special platform (at a later moment and for a limited access). To receive access to all these recordings please register here. Learn more about our Masterclass Programme in English, Spanish and Portuguese.
Terms and conditions
If you take 5 masterclasses you can receive a certificate of participation.
If you want to register for all the Masterclasses of the year you can do so for US $ 200. Click here to see the other masterclasses of 2022.
If you cannot participate in the Masterclass that you have registered and paid for, we will not be able to issue a refund.
Access to the recordings of the Masterclasses will not be offered individually. For an annual fee of $150 you can access all the recordings for the year. Click here to receive access to all the recordings.