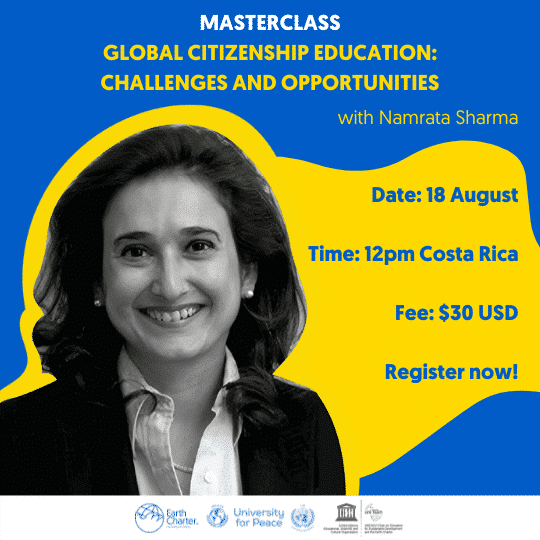 This Masterclass is developed to engage participants with the United Nations Sustainable Development Goal (SDG) 4.7, which seeks to foster global citizens by 2030.
This class aims to:
Provide an introduction to what global citizenship is, and what it means to be part of a global community;
Explore some approaches to teaching and pedagogy, including from less widely known perspectives;
Make connections between global citizenship education and the Earth Charter;
Engage with practical ideas and support for teachers who want to introduce global education into their practice (including guides, resources and further readings);
Provide links to networks of researchers and practitioners working in the field of global education, and related areas.
Namrata Sharma
Read more Close description
Dr. Namrata Sharma is on the faculty at the Department of Curriculum and Instruction, State University of New York, USA. She is an expert with the United Nations' Harmony with Nature Knowledge Network. She is also an international education consultant, and on the boards of various research centres. Her scholar contributions have appeared in several journals, and she has authored several books including Value-creating global citizenship education for sustainable development: Strategies and approaches (Cham: Palgrave Macmillan, 2020). For more see: https://drnamratasharma.com
What is a Masterclass?
An Earth Charter Masterclass is a two-hour class facilitated by a person (together with a moderator) on a topic of their experience and interest, with a space for questions and interaction between the participants. It offers an opportunity to get some practical examples and new insights. There is no reading or preparation requirement to take part in the Masterclass, nor homework.
Our Masterclass series offers an opportunity to expand our understanding on the challenges of our time and how to address them using the Earth Charter as a reference. The Masterclass are held live on the Zoom platform. All recordings will be made available on a special platform (at a later moment and for a limited access). To receive access to all these recordings please register here. Learn more about our Masterclass Programme in English, Spanish and Portuguese.
Terms and conditions
If you take 5 masterclasses you can receive a certificate of participation.
If you want to register for all the Masterclasses of the year you can do so for US $ 200. Click here to see the other masterclasses of 2022.
If you cannot participate in the Masterclass that you have registered and paid for, we will not be able to issue a refund.
Access to the recordings of the Masterclasses will not be offered individually. For an annual fee of $150 you can access all the recordings for the year. Click here to receive access to all the recordings.