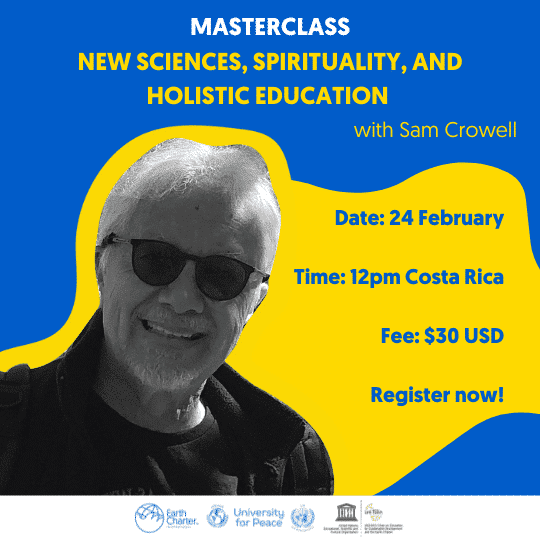 What is a Masterclass?
An Earth Charter Masterclass is a two-hour class facilitated by a person (together with a moderator) on a topic of their experience and interest, with a space for questions and interaction between the participants. It offers an opportunity to get some practical examples and new insights. There is no reading or preparation requirement to take part in the Masterclass, nor homework.
Our Masterclass series offers an opportunity to expand our understanding on the challenges of our time and how to address them using the Earth Charter as a reference. The Masterclass are held live on the Zoom platform. All recordings will be made available on a special platform (at a later moment and for a limited access). To receive access to all these recordings please register here. Learn more about our Masterclass Programme in English, Spanish and Portuguese.
This Masterclass will be a non-technical overview of the intersection of these insights and perspectives and what they mean concretely when applied to education. The times we live in call for real change in the ways we educate. These times challenge the very purpose of education but there is little guidance for educators in how to move toward a new vision within the context of conventional classrooms. The ideas presented here are applicable to any grade level, subject area, or institutional setting. They have produced award-winning teachers and schools who are attuned to students as whole beings with purpose and agency to transform the world.
This masterclass will blend intellectual and experiential processes intended to inspire the mind and heart rather than merely provide content. Each person is considered a resource where interactive learning and personal consolidation are valued and encouraged.
Sam Crowell
Read more Close description
Dr. Sam Crowell has spent the bulk of his academic career interpreting the new sciences of wholeness and interconnectedness for their application in classrooms, schools and curriculum. This has included quantum mechanics, chaos and complexity science, holography, open systems, emergence, and neuroscience. These understandings have culminated in award-winning teaching strategies, a masters program in holistic and integrative education, a model program in transformative learning, and teaching for social justice, peace and sustainability through the Earth Charter. In addition, Sam is on the advisory council for the Collaborative in Spirituality and Education developed at Columbia University. He is also a senior researcher and advisor for Earth Charter International and adjunct faculty of Antioch University, St. Michael's College, and the Institute for Educational Studies. Sam is Professor Emeritus at California State University and the author of Emergent Teaching and The Re-Enchantment of Learning. He also honors his personal ancestry as Aniyunwiya.
Terms and conditions
If you take 5 masterclasses you can receive a certificate of participation.
If you want to register for all the Masterclasses of the year you can do so for US $ 200. Click here to see the other masterclasses of 2022.
If you cannot participate in the Masterclass that you have registered and paid for, we will not be able to issue a refund.