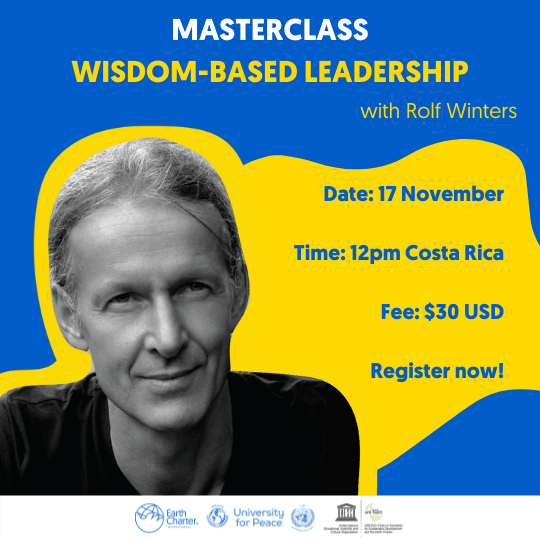 Looking at the leadership of our countries, our corporates or our institutions, we have to conclude that the leadership in recent history has been poor and unfit to meet the real challenges of our time. We need to change the way we look at leadership, the way leaders are raised, nourished, developed and positioned. In a radically changing world due to a tsunami of exponentially developing technology, where can we find a meaningful future perspective for humanity, leadership and business? What is the impact of one in a world in crisis?
One-off live Masterclass Online at The Earth Charter Education Center
What is Wisdom Based Leadership, why do the disrupters and leaders of tomorrow act according to the fundamentals of Wisdom Based Leadership and how can you become such a leader?
On 17 November 2022, Earth Charter Center for Education for Sustainable Development at UPEACE will host a Masterclass on Wisdom-based leadership by international boardroom consultant and keynote speaker Rolf Winters.
Rolf is committed to contribute to the necessary paradigm shifts regarding leadership, help leaders to re-wire and rewrite some basic principles in leadership and leadership development, as being taught in business schools around the world. In this Masterclass he will share what he learned from the Keepers of Wisdom, indigenous and tribal leaders around the world with whom he lived and studied for five years. This adventure he undertook with his family resulted in the awe-inspiring hit movie DOWN to EARTH, an award-winning film that changed lives and touched the hearts of millions of people. During this interactive Masterclass Rolf will share his insights into the leadership of these unique Wisdom Keepers. Insights that more and more forward-looking companies are applying and that you too, can apply to your leadership and entrepreneurship.
Questions being answered:
What is wisdom-based leadership?
How do you apply wisdom-based leadership within our modern world?
How do you balance intuition and mind as a leader?
How do you become a purpose driven company and/or leader?
How to maximise your positive impact and influence as a leader?
"Our collective future on this planet depends on the next generation of leaders to stand up and stay up. A next generation of authentic, uncorrupted and wise leaders who lead from within. A generation of leaders who are free-thinking and free-feeling individuals to take the reigns, unleashing the true potential of themselves and those they lead." - Rolf Winters
Rolf Winters
Read more Close description
Rolf is an explorer of life, leadership coach, public speaker and founder of several ground-breaking personal development organisations. Driven by his fascination for unlocking hidden human potential Rolf made this his mission since leaving his corporate career 25 years ago. Relentlessly seeking and experimenting to find ways to create thriving cultures, he has been working throughout Europe with leaders of major corporations and NGO's and their teams. In 2005 he felt a calling to expand his quest to unlock the hidden potential of our human tribe as a whole. This led to a U-turn and a five-year journey together with his family, living and studying with tribal communities around the world. They documented their encounters with the wisdom keepers in the award-winning film 'Down to Earth'. Rolf is determined to bring back his newly acquired insights and profound source of wisdom into our modern world. For more information, please visit Rolf's website.

This Masterclass is a collaboration between Wise Leaders ltd and Earth Charter International. The Earth Charter – that was crafted by visionaries twenty years ago – is a document with sixteen principles that turn conscience into action. It seeks to inspire in all people a new sense of global interdependence and shared responsibility for the well-being of the whole human family, the greater community of life, and future generations. It is a vision of hope and a call to action. The Executive Director, Mirian Vilela, will give the introduction for this workshop. For more information about Earth Charter International, please visit the Earth Charter website.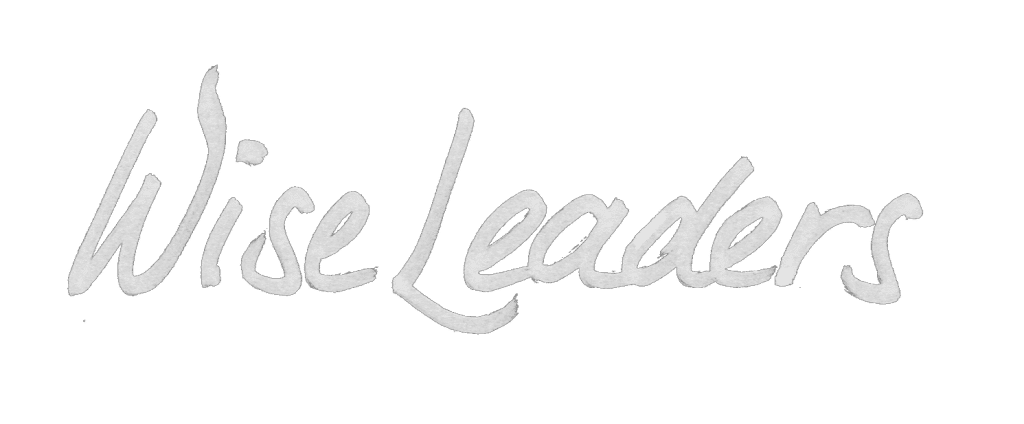 This Masterclass is developed under the UNESCO Chair on ESD with the Earth Charter as a collaborative project between ECI and Wise Leaders ltd.
What is a Masterclass?
An Earth Charter Masterclass is a two-hour class facilitated by a person (together with a moderator) on a topic of their experience and interest, with a space for questions and interaction between the participants. It offers an opportunity to get some practical examples and new insights. There is no reading or preparation requirement to take part in the Masterclass, nor homework.
Our Masterclass series offers an opportunity to expand our understanding on the challenges of our time and how to address them using the Earth Charter as a reference. The Masterclass are held live on the Zoom platform. All recordings will be made available on a special platform (at a later moment and for a limited access). To receive access to all these recordings please register here. Learn more about our Masterclass Programme in English, Spanish and Portuguese.
Terms and conditions
If you take 5 masterclasses you can receive a certificate of participation.
If you want to register for all the Masterclasses of the year you can do so for US $ 200. Click here to see the other masterclasses of 2022.
If you cannot participate in the Masterclass that you have registered and paid for, we will not be able to issue a refund.
Access to the recordings of the Masterclasses will not be offered individually. For an annual fee of $150 you can access all the recordings for the year. Click here to receive access to all the recordings.