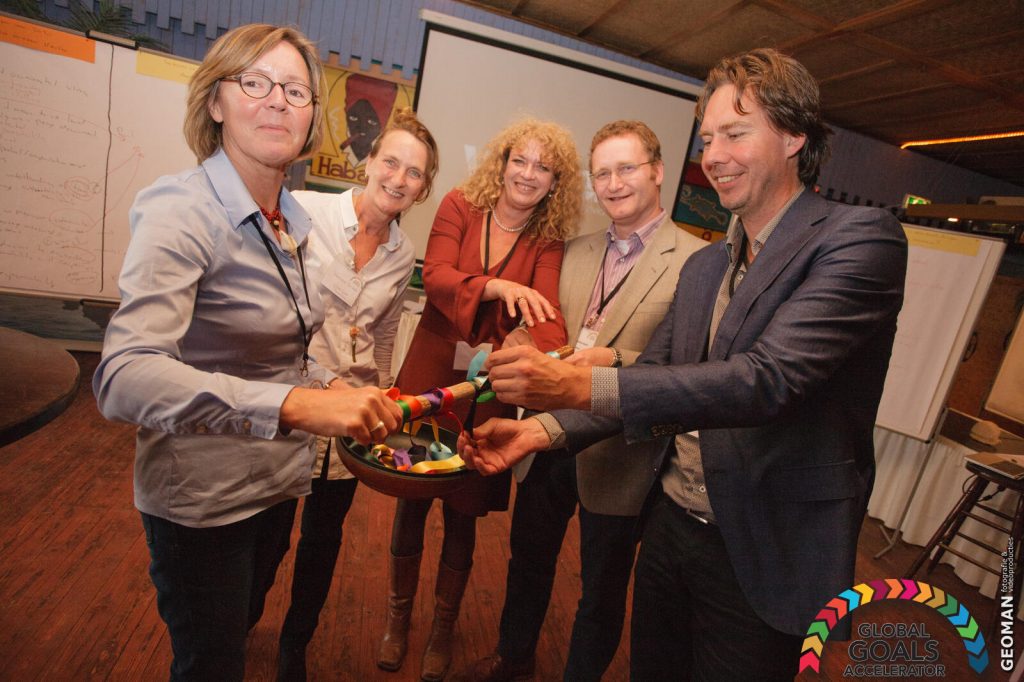 Global Goals Accelerator is an initiative to speed up consciousness and implementation of the Sustainable Development Goals (SDGs) in the Netherlands and beyond. The initiative was co-created by Sustainability Dialogue (Veronique Swinkels) and Earth Charter Netherlands (Alide Roerink) and carried out from June 7-July 5, 2016 with the support of various partners.
The collaborators organized a series of events, bringing together 30-40 diverse actors from different fields to focus in on a couple select SDGs per meeting. Each meeting began and ended with a young artist singing and playing a work related to the day's theme, and was followed by presentations from top academics and practitioners who established the national and global context. Participants then had dinner together as they delved into conversations in small groups to discuss targeted solutions. Through this process, the Global Goals Accelerator engaged people across governmental and organizational sectors, both students and professionals, to take on the challenge of the SDGs in the Netherlands.
In addition to a greater awareness, urgency, and action directed toward the SDGs, the meetings have sparked new relationships and conversations, as participants continue their conversations on LinkedIn and plan to reconnect in August 2016.
More information is available in Dutch on the Global Goals Accelerator website: http://www.globalgoalsaccelerator.nl/.  Photo credits to Barry Jonas at GEOMAN photography.