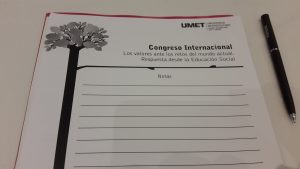 The Earth Charter Center for Education for Sustainable Development was invited to participate in the International Conference: The values to face the world's challenges, that took place in San Juan, Puerto Rico, on February 12th and 13th, 2016. Around 200 people participated, mostly teachers from different areas of Puerto Rico.
The conference was organized by the Metropolitan University of Puerto Rico with the support of the University of Granada, Spain. One of the main objectives was to present the preliminary results of the research that these universities have conducted over the past two years on the values of young people in Puerto Rico. In addition to presenting these results, six different workshops related to education and values about sustainability and peace were offered.

The Earth Charter Center for ESD organized one of these workshops, "Educating for sustainability with the Earth Charter", which was facilitated by Alicia Jimenez. Other Earth Charter related workshops were offered by Dr. María Vilches, of the Metropolitan University, whose workshop title was "Connecting with ourselves, activities for using the Earth Charter". The other one was offered by Dr. Alfonso Fernández, of the University of Granada, who presented the workshop "Reconnecting with nature. Relaxation and guided visualization".
The Secretary of Education, Prof. Rafael Roman, gave the opening address in which he reflected on the importance of knowing what young people think are the values that guide their lives. With regards to education, he said that one should not "teach" about values, but live and reflect on them.

Dr. Andres Soriano of the University of Granada gave a presentation on the main findings of the research project on the values of Puerto Rico's youth. This presentation was extended in a parallel session on Friday afternoon. Dr. Soriano started with their working definition of "values", which refers to anything that has an important quality, that does not leave us indifferent, which produces pleasure or desire, gives value, and directs human life. Values have no meaning if not contextualized. The overall objective of the research was to describe the values of young Puerto Ricans in their individual, social, and cultural dimensions. About 1,800 young people from 11 to 19 years old from all regions of the island were interviewed.
The information collected, which needs to be analyzed in detail, yielded data such as preferences in types and number of friends, and participation in community organizations and social movements, which are popular and highly valued. A majority of young people interviewed highly valued the care of the environment, and they also perceive themselves as having a significant influence on adults. An interesting result is that the majority of interviewees declined to respond on issues related to violence and conflicts.
It is expected that the results of this research will be discussed with teachers and will help influence the formation of educational public policies that will increase the contextualization of values .