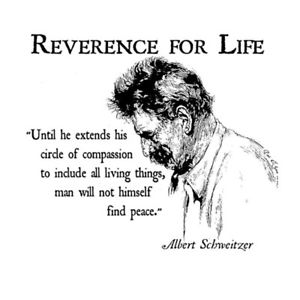 The charity "Reverence for Life UK" (RfLUK) will inaugurate the first "Reverence for Life Awareness Week" from the 15th – 23rd September 2018.
Amongst the several projects, they have planned for that week there will be a series of daily postings on Facebook and on their website inviting contemplation of what the phrase "Reverence for Life" can mean and suggesting simple ways in which it can find expression and motivate action in our lives.
As one of the celebratory actions, RfLUK will be re-endorsing the Earth Charter as the most profound and up to date expression of the ethics of Reverence for Life in the realm of governance.
In this context, Percy Mark, past chairman of RfLUK and longtime friend and supporter of Dr. Albert Schweitzer, wrote a short essay to show the connection between Albert Schweitzer's early preoccupation with issues of governance and between Reverence for Life and the Earth Charter.  Find this essay by clicking here.
All are invited to engage with the Reverence for Life Awareness Week at the local level and from your own context between Saturday 15th to Sunday 23rd September. The 'Week' is organized around the following themes for each of the eight days.
DAY ONE – Reverence for Life is:
TREATING ALL CREATURES WITH RESPECT, KINDNESS & EMPATHY
DAY TWO – Reverence for Life is:
RELATING TO ALL HUMANS EQUALLY AS INDIVIDUALS
 DAY THREE – Reverence for Life is:  
ACCEPTING OUR RESPONSIBILITY FOR ALL LIFE ON EARTH.
DAY FOUR – Reverence for Life is:
EACH PERSON ACCEPTING THEIR OWN LIFE AS A GIFT
DAY FIVE – Reverence for Life is:
AWARENESS OF THE IMPACT OF TECHNICAL & DIGITAL INNOVATION
DAY SIX – Reverence for Life is:
THE ETHICAL PRINCIPLE WHICH PERMEATES THE EARTH CHARTER
DAY SEVEN – Reverence for Life is:
AN ETHOS WHICH CAN BE FOUND EMBEDDED IN MOST CULTURES
DAY EIGHT – Reverence for Life is:
A PHILOSOPHY WHICH SEEKS TO REVIVE HOPE, AND GIVE PURPOSE TO OUR LIVES TODAY AND FOR THE FUTURE
For more information visit Reverence for Life UK  and Reverence for Life UK Facebook.