On February 25, the new "Seeds of Hope & Action" exhibition will be launched through three online events over a 24-hour period to enable maximum participation around the world. Two sessions will be conducted in English, aimed at viewers in the Americas, Africa and Europe, and Asia respectively, and one in Spanish.
This exhibition, created by the Soka Gakkai International (SGI), together with Earth Charter International (ECI), is the successor to "Seeds of Hope," launched in 2010 to mark the 10th anniversary of the Earth Charter. It was updated in 2020 to mark the 20th anniversary and now includes the SDGs, a greater emphasis on climate change, and the Mapting app, as well as new case studies showing individuals in Bangladesh, the Marshall Islands, Lebanon, South Sudan, Mexico and Brazil who have taken action for change.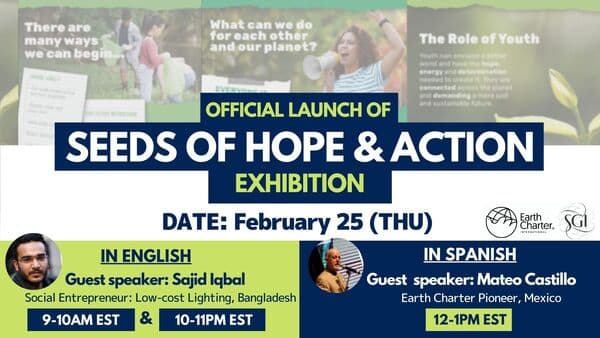 Due to the pandemic, in most locations it is not possible to arrange physical exhibition showings. Therefore, for the first time, an online launch and showing is being held, to demonstrate how the exhibition can be used to stimulate reflection, discussion and ideas in online communities or gatherings.
The exhibition stresses our interconnectedness with the broad community of life and the need to expand our sphere of compassion. It encourages viewers to overcome feelings of powerlessness and highlights the fact that a single individual can initiate positive change.
In line with the Earth Charter movement's new slogan "Turning Conscience into Action," the online launch event will include discussion time in small-group sessions where participants can share how they turn conscience into action, and what their "seed" of hope and action is (or are) in making their community and therefore the world a better place.
It is hoped that the exhibition can be a tool to engage with people's values and conscience, to inspire them to act as agents of social change. The values in the Earth Charter can serve as a moral compass to stimulate internal change and lead to the development of local initiatives and more sustainable communities.
In the COVID-19 era, we are more than ever facing the reality of how we can connect with and support each other, and how we can overcome selfishness, greed and apathy. The SOHA exhibition aims to address these issues so we can learn together how one individual, linked with others through myriad connections, can make a difference.
Find more information about the exhibition here.
Launch event timetable: