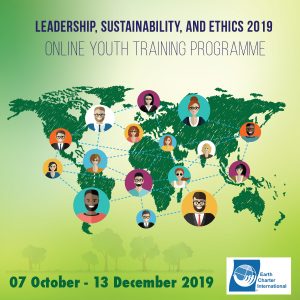 Apply now to participate in the next offering of our interactive and innovative Leadership, Sustainability, and Ethics Online Youth Training Programme to be held from 07 October – 13 December 2019 for young people aged 18-30!
This training programme seeks to enhance young people's skills and knowledge to be ethical sustainability leaders and implement Earth Charter-inspired projects, contributing towards a more sustainable and peaceful world.
By participating in this programme, you will have the opportunity to join a global network and support your fellow participants as you explore your role as a leader in your own community.
Participants will receive an Earth Charter International certificate as recognition of their successful completion and an invitation to become an Earth Charter Young Leader.
To ensure that we can build a sense of community among participants, space is limited. Early applications are encouraged.
Click here for application materials and more information about this programme.