Source: SGI Peace News, Promoting a Culture of Peace
Soka Gakkai International (SGI), November 2018 (Vol. 25)
Accra, Ghana, 13-14 October 2018
The Seeds of Hope: Visions of Sustainability, Steps Toward Change exhibition was shown at the Accra International Conference Center on 13 and 14 October 2018. More than 15,000 people viewed the exhibition, jointly created by SGI and Earth Charter International, over the two days and over 10,000 of them were students from 200 schools.
The showing was organized by SGI-Ghana youth, and youth representatives were present to introduce the panels to visitors.
The opening ceremony on 13 October was attended by Professor Ivan Addae Mensah, former vice-chancellor of the University of Ghana, Mrs. Beatrice Okai (widow of Professor Atukwei Okai, secretary-general of the Pan African Writers' Association), and King of Osu Traditional Area, President of the Greater Accra Regional House of Chiefs and member of the National House of Chiefs, Nii Okwei Kinka Dowuona VI.
After a welcome from SGI-Ghana General Director Mr. D.K. Sintim-Aboagye, the daughters of the late Professor Atukwei Okai presented a poem in the form of a chant from his writings for children, in appreciation of the friendship between their father and SGI President Daisaku Ikeda.
A message from the SGI president was then read, encouraging viewers to take action now if they wish to achieve something.
President of Ghana H.E. John Agyekum Kufuor's message was also read, in which he expressed his admiration for the enthusiasm with which the youth of Soka University sang the Ghanaian song "Yen Ara Asaase Ni" when he met with SGI President Ikeda in Tokyo. He encouraged all Ghanaians, using the same energy, to make positive contributions toward the sustainable development of the country.
The brass band of the Young Executive School in the central region then played the same song, followed by cultural performances from some of the invited schools.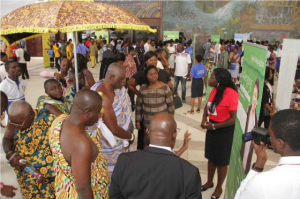 Those viewing the exhibition were given stickers to express their determination toward environmental sustainability. The following determinations were written by the youth: "I promise I will help a friend," "I promise to not discriminate against people" and "I promise to help old people."
To view the panels in PDF format, click here: https://www.sgi.org/in-focus/2010/seeds-of-hope.html
You can also find more information here: https://earthcharter.org/library/seeds-of-change-the-earth-charter-human-potential-exhibition/