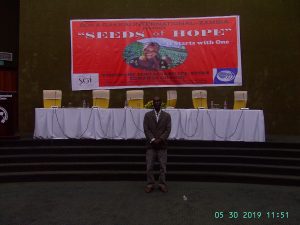 "Everyone of us can make a difference!" was the motto of last month's three-day exhibition "Seeds of Hope: Visions of Sustainability, Steps Toward Change", organized by Soka Gakkai International of Zambia (SGI-Zambia) in cooperation with Earth Charter International at Mulungushi international conference center in Lusaka, the Capital City of Zambia.
Nearly 1000 participants of all age groups, learned about current global issues and the principles of the Earth Charter. The exhibition pointed out our interconnection with the broader community of life and sought to empower viewers with a sense of their own potential to make a positive change. Participants were so motivated by the messages that many vowed to continue supporting the Earth Charter and SGI, and to do something over the environmental degradation after listening to the presentation of the contributing Grassroots Trust organization.
Their pledges, written on pieces of papers, were stacking on a board.  Even a nine-year-old boy pledged to help his community end illiteracy when he finishes school.
Participants left the venue asking when the next program would be held and urged COPE-Zambia to start a University Earth Charter group which they committed to.
COPE-Zambia is currently creating an Earth Charter School Network in Zambia with other schools from around the world committed to fostering Sustainability. The aim is to create an interconnected foundation of young people who are prepared for global challenges and able to live and promote the Earth Charter and its values, ethics and principles.