The Earth Charter supports the integral ecology campaign of World Youth Day (WYD). WYD is an opportunity to live the message shared in Pope Francis' Encyclical Laudato Si' on the care for the common home. This year, WYD will take place between 22-27 January in Panama with thousands of young people passing through Costa Rica.
The Encyclical Laudato Si 'resonates significantly with the ethical vision proposed in the Earth Charter. The Earth Charter stands out as a contribution to a planetary ethic in the search for ecological citizenship, which Pope Francis speaks of in the Encyclical. The Encyclical highlights the ethic of care that is central to the Earth Charter, and focuses on some important issues framed in the Charter such as the principle of universal responsibility, interdependence, the common good, and economic and social justice.
In preparation for WYD, we share a guide to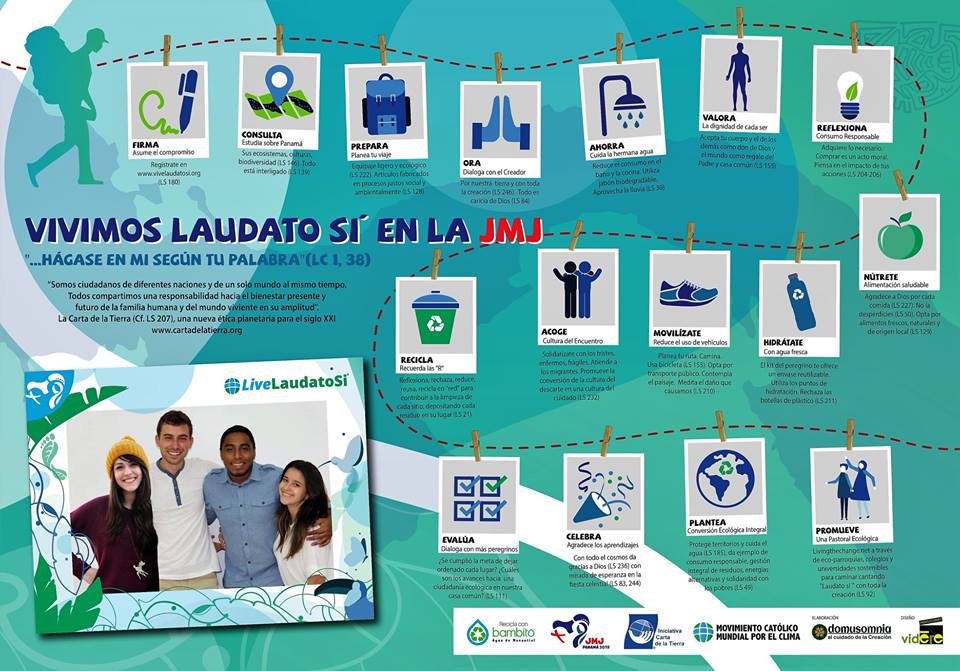 deepen your experience throughout your journey. This poster made in Spanish highlights 16 actions promoting a culture of care based on integral ecology. There are 3 actions to take into account before WYD, 10 during the event and 3 after WYD. They are based on 27 citations of the encyclical Laudato Si' and it is relation to the Earth Charter. This poster was made with the purpose of inspiring the participants to arrive in Panama as pilgrims and return to their countries as ecological citizens. It is a call to promote an Ecological Pastoral that takes shape in Eco-Parishes, sustainable colleges and universities.
We invite you to participate in this campaign by sharing these materials and using the "Live Laudato Si''" Framework on Facebook to share photos in solidarity with this ecological experience.
These materials were made with the contribution of Catholic professionals, of Colombia, members of DOMUS OMNIA Consulting (Ing. Iván Barragán, Arq. Martha Pinzón, Ing. Alirio Cáceres) in alliance with VIDERE (Alexandra Castellanos and Natalia Herrera, graphic designers of the Latin American and Caribbean Youth Ministry).