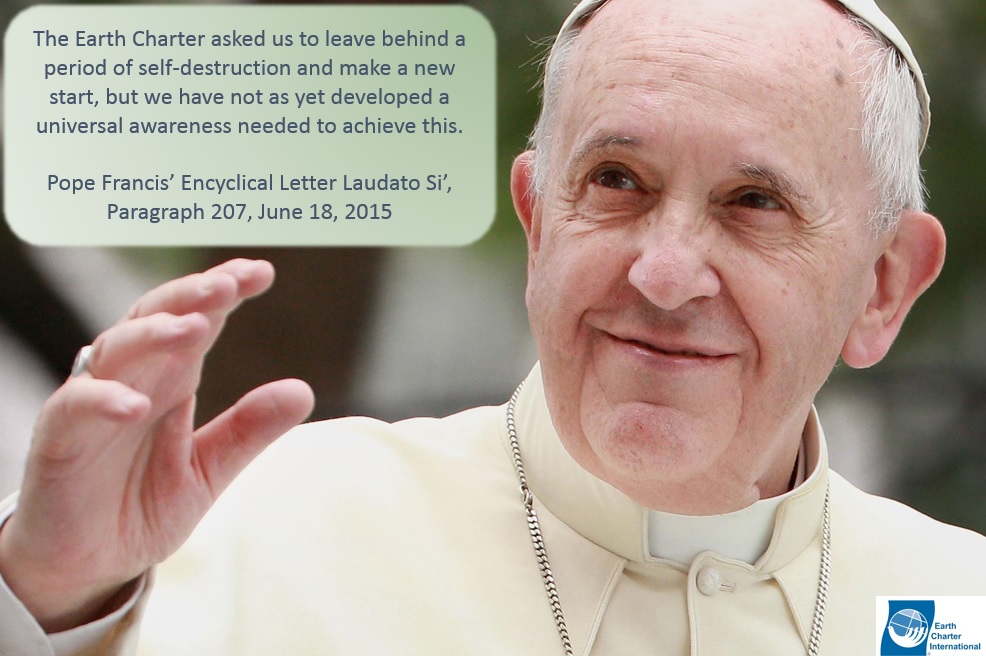 Earth Charter International joins the millions of people and organizations that have congratulated Pope Francis and are hopeful about the release of the highly anticipated Laudato Si' Encyclical Letter on Care for Our Common Home, which significantly echoes the ethical vision proposed in the Earth Charter.
This encyclical has generated great expectations and commentary around the world. World leaders are expressing their satisfaction with this document and the social doctrine of the Catholic Church, which will have great influence at the COP 21 climate change negotiations in Paris later this year, but also in the transition to a new paradigm of human coexistence with the environment. The document calls for the cultivation of responsible care for creation, with special attention to the poorest who suffer most from environmental damage.
For the global Earth Charter network this document is paramount, as Pope Francis makes an explicit reference to the Earth Charter reference in paragraph 207 of Chapter Six on Ecological Education and Spirituality:
P. 207. The Earth Charter asked us to leave behind a period of self-destruction and make a new start, but we have not as yet developed a universal awareness needed to achieve this. Here, I would echo that courageous challenge: "As never before in history, common destiny beckons us to seek a new beginning… Let ours be a time remembered for the awakening of a new reverence for life, the firm resolve to achieve sustainability, the quickening of the struggle for justice and peace, and the joyful celebration of life".
Central messages
The encyclical highlights the ethics of care that is central to the Earth Charter, as well as emphasizes several important Earth Charter principles including universal responsibility, interdependence, the common good, economic and social justice, and the precautionary principle, among others. These are principles that should underlie a new global consciousness, as stated in the Sixth Chapter Ecological Education and Spirituality: "Many things have to change course, but it is we human beings above all who need to change. We lack an awareness of our common origin, of our mutual belonging, and of a future to be shared with everyone. This basic awareness would enable the development of new convictions, attitudes and forms of life. A great cultural, spiritual and educational challenge stands before us, and it will demand that we set out on the long path of renewal." (P. 202)
According to the press release of Radio Vaticana, a central question in Laudato Si' is, "What kind of world do we want to leave to those who come after us, to children who are now growing up?" The Pope addresses these in P.160, "This question does not have to do with the environment alone and in isolation; the issue cannot be approached piecemeal". This leads us to ask ourselves about the meaning of existence and its values at the basis of social life: "What is the purpose of our life in this world? What is the goal of our work and all our efforts? What need does the earth have of us? … Unless we struggle with these deeper issues, I do not believe that our concern for ecology will produce significant results."
What are Encyclical Letters and what is their significance?
Encyclicals are public and formal letters of the Pope expressing his teachings on matters of great importance (ref. Catholic.net). According to Mary Evelyn Tucker, co-director of the Forum on Religion and Ecology at Yale University, the Encyclical letters are the most important documents of Catholic Church teaching. As such, Laudato Si' will have great influence not only for the 1.2 billion Catholics in the world, but also for billions of Christians of other denominations. Encyclicals, when dealing with social, economic or political issues, are commonly addressed not exclusively to Catholics but to all men and women of the world, especially world leaders, regardless of religion. This is the first time that an Encyclical addresses the issues of environment and sustainability, and for this reason and the great popularity of Pope Francisco, the document has generated great expectations.
In various statements, several published in the New York Times, Pope Francis has made clear that he expects that this Encyclical will influence energy and economic policies, as well as encourage a global movement for sustainability, calling on people to put pressure on politicians for change.
At Earth Charter International, we will continue to analyze the background of this Encyclical, and how we can join forces to raise awareness of the ethical and moral dimensions of environmental challenges and sustainability issues humanity faces, and how we can find solutions to change the global paradigm towards a more just, sustainable, and peaceful society.
Find the full text of the Encyclical Letter Laudato Si' here: http://bit.ly/1Gi1BTu
Links to other articles on the Encyclical: