On May 12, 2021, an online seminar was held with Grian Cutanda, moderated by Alicia Jiménez. The seminar was called: "Traditional stories to build another world."
Grian Cutanda is a Spanish writer, educator, psychologist, researcher, translator, communicator, and social and environmental activist. Grian is the literary pseudonym under which Antonio Cutanda Morant published his first book, the international bestseller The Gardener.
For many years, Grian Cutanda has been promoting the Earth Charter as an ethical framework for the necessary worldview transformation to face our current challenges. In his research, he has been able to argue that traditional stories and myths are powerful tools for this change in worldview. But not just any story or myth, they must be those stories that, from a complex systemic approach, can express the worldview that we associate with the Earth Charter.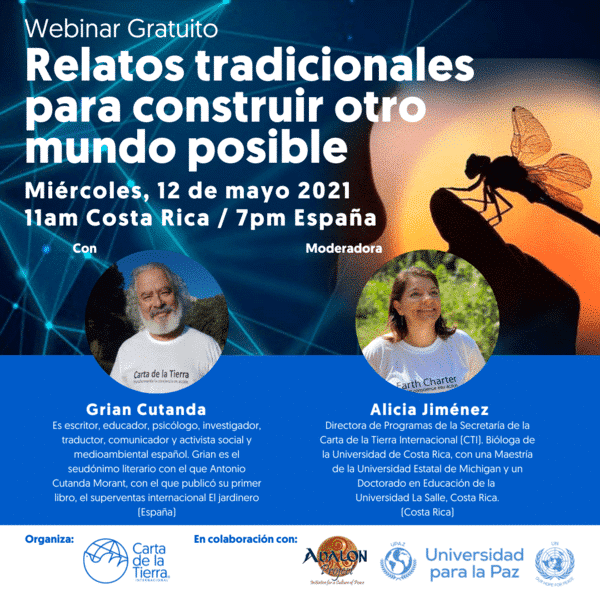 In this seminar (held in Spanish), Grian commented in depth on what the vision is for "another world". In this, we would have to move from the dichotomy that has prevailed in Western thought between matter and mind, nature and humans, and experience a change of consciousness of unity, that everything is one and that we are part of that whole.
Traditional stories are capable of transmitting this worldview, and are powerful tools for the necessary transformation of consciousness. The results of Grian's research, identifying traditional stories that express the worldview contained in the Earth Charter, can be found in the initiative: "Earth Stories Collection", available in English and Spanish.
During the seminar, Grian read one of those stories that expresses this other vision of the world: "Indra's network", you can find it on the Earth Stories Collection website.
Course: Worldviews and the Earth Charter – 5 July to 27 August 2021 (Spanish)
Grian and Marta Ventura will offer a course this year, where the topics expressed in this seminar will be expanded.  In this course, people will have the possibility to change their worldview, also basic methodologies will be transmitted to develop consciousness, to expand the sense of identity and understand that all is one. The understanding of the necessary civilization change and how to get there will be deepened in this course.  Also, skills such as imagination, creative thinking and complex-systems thinking will be fostered. Understanding the Earth Charter will be fundamental in this course, since this document is the basis of this worldview. In addition, basic training on storytelling will be offered, for this George McPherson, a storyteller from Scotland, will be invited. It will be a course where theoretical and practical actions will be included.
Event recording (in Spanish):