During the first half of 2017, around 19.880 people participated in courses, seminars, workshops and meetings at the Open University of Environment and Culture of Peace (UMAPAZ), and 160.000 participants attended sessions of the Ibirapuera and Carmo Planetariums, also managed by the University. When UMAPAZ was created, it was inspired by the Earth Charter and it served as one of the foundations of this institution.
The UMAPAZ is linked to the Municipal Secretariat of Green and Environment of the City of São Paulo (Brazil), and it is located in the Ibirapuera Park. All UMAPAZ activities, courses or events have been offered free of charge to the citizens of the city of Sao Paulo and to those interested from other cities as well.
Since 2009, UMAPAZ has been developing the Earth Charter in Action Programme with an articulated set of activities aimed at sensitizing, training, and supporting urban socio-environmental agents to carry out socio-environmental projects and contribute to a more just and sustainable city.
In 2017, the Earth Charter in Action Programme of UMAPAZ has carried out the following activities:
Earth Charter Encounter with alumi – On 25 January 2017, a meeting brought together the socio-environmental urban agents of the classes held from 2009 to 2016, with the objective of sharing achievements and strengthening alliances.
14th Generation of the Training Course for Urban Socio-Environmental Agents, from April to July 2017, with this 100 hours course, 44 people were certified and 26 socio-environmental projects were carried out in the city.  Some quotes from participants are as follow:
-"I learned to take a fresh look at the city."
"Putting ideas into practice and still feel safe to have a basis for that is very good! Meeting people (group and speakers) who already act in the area is stimulating, beautiful, hopeful and enriching.
 -"I see the Earth Charter – urban socio-environmental agents, as seeds of trees that are being planted and whose fruits are intended to be harvested in the future.
Course of Socio-environmental Agent's Territories, in association with SESC Itaquera, focusing the Aricanduva River basin, in the East of São Paulo, from April to July 2017, with 60 hours and 47 people certified. Participants expressed:
-"I came out of this experience with the willingness to put into action all that I have learned here, and recognizing the possibility of expansion of knowledge and relationships.
-" The experience of meeting groups and finding learning spaces in the city was wonderful."

V Seminar on Environmental Education, sowing the Educating City, on Agenda 2030 and the Sustainable Development Goals, This meeting took place on 25 August 2017, organized in partnership with the NGO Aprendiz and included the Programme Sustainable turn around of São Paulo. The Seminar involved Rose Marie Inojosa, Cristina Moreno, and Mariana Noronha, from the NGO Public Agenda.
Some activities that are still being carried out, from September to October 2017, are:
Experiences in Urban Permaculture Course, based on active learning, aims to provide urban socio-environmental agents with experiences in urban permaculture workshops in different peripheral areas of the city, sharing knowledge and demonstrating how much the city has to learn from its peripheries. Association with Sustainable Socio-environmental Culture Point; Community Association of Vila Nova Esperanza; Architecture in Permaculture and Eco-Friendly House. Bioconstruction Workshops, Herb Spiral, Agroforestry Biodynamic Plant, and Intervention in Prainha Urban Park, in the Grajaú region.
Activities in preparation for November 2017:
VI Environmental Education Seminar sowing the Educating City.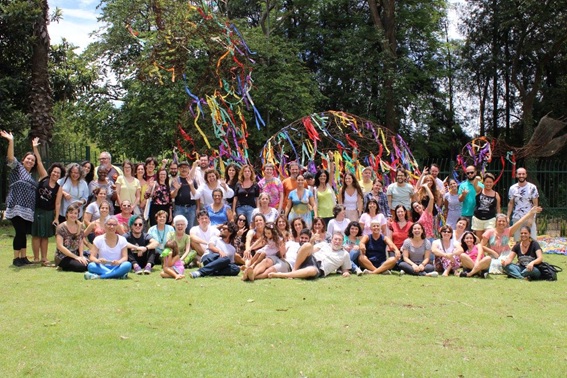 For 2018, the Earth Charter programme at UMAPAZ plans to hold:
-The 15th Training Course of Urban Socio-environmental Agents – beginning March
– The 2nd Class of the Articulation Course of Socio-environmental Agent's Territories – beginning: August
– The 2nd Class of the Experiences Course in Urban Permaculture – beginning: September
– The 7th and 8th edition of the Environmental Education Seminar sowing the Educating City – July and November
The Earth Charter in Action programme of UMAPAZ is coordinated by biologist Débora Pontalti Marcondes and geographer Lia Salomão Lopes.
For more information on UMAPAZ and the Earth Charter in Action program visit:
http://www.prefeitura.sp.gov.br/cidade/secretarias/meio_ambiente/umapaz/
https://www.facebook.com/cartadaterraemacao/
Contact: dmarcondes[@]prefeitura.sp.gov.br or  liasalomaolopes[@]gmail.com