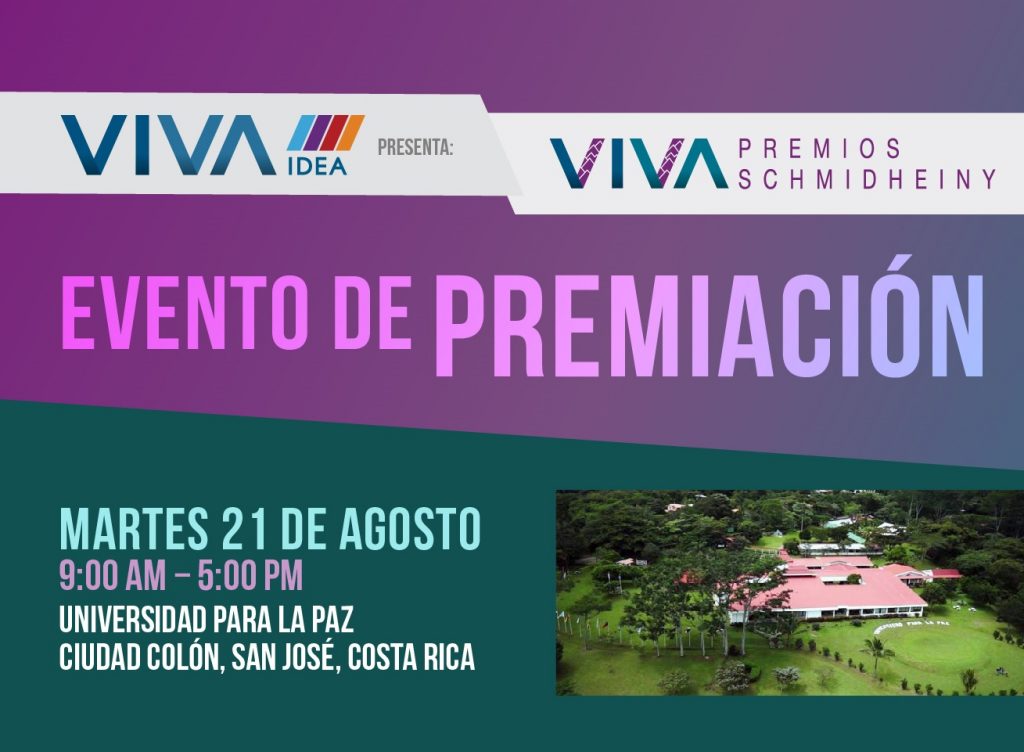 The VIVA Schmidheiny Award is an annual contest that challenges social entrepreneurs and innovative organizations, helping them to strengthen the management of their projects and to scale their impact.
In its 2018 edition, they joined forces with Earth Charter International and the University for Peace, for this reason, the contest and award ceremony was held in Costa Rica at the Earth Charter Education Center facilities.
The Awards are granted in 4 categories: NGOs with Environmental Impact, NGOs with Social Impact, Companies with Environmental Impact, and Companies with Social Impact; and 2 special awards: Innovation in Collective Action, and Public Vote.
Three finalists from each of these categories (and from 10 countries) traveled to this award event to present their initiatives before an expert panel of international judges, who are in charge of selecting the winners.
The first places in each category received a prize of USD$15,000; and the second places USD$2,500. In addition to the cash prizes, each of these 12 finalists will receive a scholarship to attend the VIVA 2018 Workshop, a social entrepreneurship training space aimed at strengthening their strategies and scaling up their impact.
The finalists will also have the possibility of winning the special prize to the "Public Vote" for USD$5,000 and the special prize for "Innovation in Collective Action" of USD$2,000.
The prizes are designed with three purposes:
• Promote innovation for sustainability
• Train new entrepreneurs
• Generate and exchange knowledge
The VIVA Schmidheiny Awards are evaluated by a multinational jury, composed of entrepreneurs, investors, academics, and successful leaders with experience in social entrepreneurship. On behalf of the Earth Charter International, Alicia Jiménez participated as part of the jury.
During the ceremony, there were several panels of experts talking about the topic of social and environmental entrepreneurship. The Director of the Earth Charter International, Mirian Vilela, gave a talk on the role of the Earth Charter as a guide for sustainable ventures.