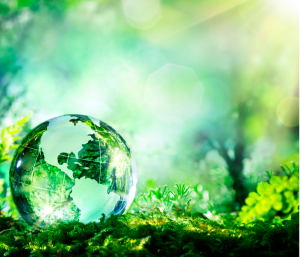 At the end of April, 22 aspiring young leaders, ages 18 to 30, were the first to begin Earth Charter International's new online training programme on Leadership, Sustainability and Ethics.
Representing sixteen countries as geographically diverse as Saudi Arabia, the Netherlands, Cameroon, Canada, St Lucia, Japan, and India, participants have set their minds to acquiring insights and practical tools to help them employ sustainability ethics in their leadership practices.  They subsequently hope to take this knowledge and apply it directly in the form of Earth Charter-inspired action projects in their home countries and communities.
One participant shares during the first week: "I am happy to be part of the family. Indeed it is pleasing to know that a group of people care about the present world, its people, and the future. l am very grateful to be part of this group where we will share experiences on how to be good, exemplary leaders who will pose a positive change to the world and protect its inhabitants."
Over the next ten weeks of the course, many opportunities will be offered to engender a deepened and expanded consciousness among the young leaders as they examine their role in contributing to the common good and a more sustainable, just and peaceful world.
The training is part of Earth Charter International's commitment to the U.N. Global Action Programme on Education for Sustainable Development, particularly in the area of empowering and mobilizing youth. The training also directly responds to Principles 12c and 14a of the Earth Charter to:
"honor and support the young people of our communities, enabling them to fulfill their essential role in creating sustainable societies", and "to provide all, especially children and youth, with educational opportunities that empower them to contribute actively to sustainable development."
The programme will expose participants to a variety of topics and challenges.  These include the concepts of sustainability, ecoliteracy, and systems thinking.  Leadership, ethics, and its dilemmas play a large role too, as does the framework of the Earth Charter with its values of respect and care for the community of life, ecological integrity, universal human rights, social and economic justice and non-violence. A practical assignment in the final two weeks of the programme will enable participants to put sustainability leadership into action as they design and facilitate a workshop in their home community on a topic that interested them during the course.
Upon successful completion of the programme, participants will receive an Earth Charter International certificate in recognition of their training.  They will also be invited to join the Earth Charter Young Leaders' Programme, a core group of motivated youth who act as focal points within the Earth Charter Youth Network.  This will enable them to help facilitate webinars, workshops and courses to further develop their knowledge and leadership skills as well as create and publish content for Youth Network communications.  Involvement in the Young Leaders' Programme will also make it possible for them to promote their own profile and credentials on the Earth Charter International website where their photos and biographies will be posted.
Earth Charter International congratulates seven young people who have been awarded scholarships for this training due to financial limitations. We offer a special thanks to the former Earth Charter International Youth Coordinator, Dumisani Nyoni, founder of the NGO ORAP in Zimbabwe, and Earth Charter International Affiliate in Hong Kong, Kim Hor Toh, for their generosity and commitment to sponsoring deserving young people to take part in this opportunity.
ECI plans to offer the training twice per year in English and Spanish, aiming to train at least 100 young sustainability leaders annually. The first Spanish training begins this August. Please visit the Earth Charter International site for more details: https://earthcharter.org/youth/.
For those interested in knowing more about the English or Spanish programme, please contact: youthcoordinator@earthcharter.org.