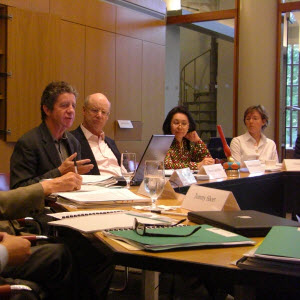 To help stimulate dialogue around the relevance of the Earth Charter to contemporary issues, ECI Executive Director, Mirian Vilela, invited Prof. Brendan Mackey* in 2017 to write an essay as a personal reflection on the Earth Charter's current relevance and the ways in which it can be used to help promote a more just, sustainable and peaceful world.
The idea then evolved to broaden this activity by inviting a group of people, who are engaged with the Earth Charter Initiative, to write a brief response to Brendan's essay and to share all these reflections on the relevance of the Earth Charter to contemporary issues by posting them on the ECI website.
We hope these materials will stimulate an expanded dialogue on the significant and relevance of the Earth Charter to contemporary issues and the challenges of the Anthropocene. We invite you to read the essays and contribute to the discussion.
Click here to read the essays or see the list below.
We welcome anyone who has been working with and reflecting on the Earth Charter and its uses, to share with us their responses and reflections. If you would like to make a contribution to this dialogue please email a short essay (700 words max.) by 30 June 2018 to the ECI executive director at info@earthcharter.org.
We will go through the essays received and put together a digital book with a collection of them. During the 2nd semester of this year, we shall have an online forum on this and the release of this publication.
Thank you!
*Director of Griffith University's Climate Change Response Programme. Brendan was a member of the Earth Charter Drafting committee, former co-chair of Earth Charter International Council and is a senior advisor of the Earth Charter Initiative.
Essays:
Mackey, Brendan (2017). "A Reflection on The Earth Charter Project and its Mission in the Anthropocene"
Bernstein, Johannah (2017).  "Earth Charter and Human Rights"
Bosselmann, Klaus, Engel, Ron and Taylor, Prue (2017).   "Giving the Earth Charter a New and More Powerful Voice"
Brown, Donald (2017). "Reflections on Major Obstacles Preventing the Earth Charter Project from Achieving its Long-term Goals"
Capra, Fritjof (2017). "The Community of Life"
Downer, Nigel (2017). "The Earth Charter as a global ethic"
Hacker, Violaine (2017). "Can the Earth Charter Movement Promote the Common Good"
Heyerdahl, Bjorn (2017). "A Re-Genesis: Actioning the Earth Charter"
Lambooy, Tineke (2018). "Understanding how the Earth Charter can serve as a guidance for social enterprises (and legislators)"
Muller, Eduard (2017). "Thoughts and comments about "A Reflection on The Earth Charter Project and its Mission in the Anthropocene¨
Ogbuiweg, Akpezi (2017). "The Contemporary Twist of Hope"
Preston, Noel (2017). Looking Back: Looking Forward"
Robinson, Nick (2017). "Norms for an Ecological Society"
Roerink, Alide (2017). "The Earth Charter: A Game Changing Ethical Guide"
Song, Li (2017). "The Earth Charter – continued global dialogue"