Leadership, Sustainability and Ethics online course
After ten weeks of work and dedication, participants concluded the Leadership, Sustainability and Ethics online course on 7 December 2020. This group was made up of insightful individuals from 16 different countries!
As part of this course, participants discuss topics including ecoliteracy, the Sustainable Development Goals, Systems Thinking and the Earth Charter during the first seven weeks, then they work together during the last three weeks to plan and implement workshops within their networks.
Participants were creative with their workshops, despite the COVID-19 pandemic, and many had to host them virtually or by following safety protocols. The workshops implemented included a tree-planting event in Malawi, "Powerpoint Nights" with roommates Canada, a dinner during which family members discussed where the ingredients of their meal came from, presentations with work colleagues, an interactive presentation with school children in Ethiopia, a game night, a webinar organized by participants from The Netherlands, Nigeria, and Nepal, and many more.
Through these workshops, the LSE course participants reached over 600 individuals.
We want to thank everyone who made this experience possible, including Avans University and Helicon College in The Netherlands and Martin Luther University College in Canada. Ellen ter Horst, Irma Verhoeven and Joy Philip incorporated this online course into their own courses at their institutions so that their students could be part of this learning experience.
We also want to give a special thank you to Earth Charter friend Nguyen Tan Phat and Earth Charter Young Leaders Erica Lotus and Dennis Pérez-Umaña for helping us as co-facilitators.
We will offer this course again starting on 1 February 2021. Learn more here:
https://earthcharter.org/courses/leadership-sustainability-ethics-lse-online-course/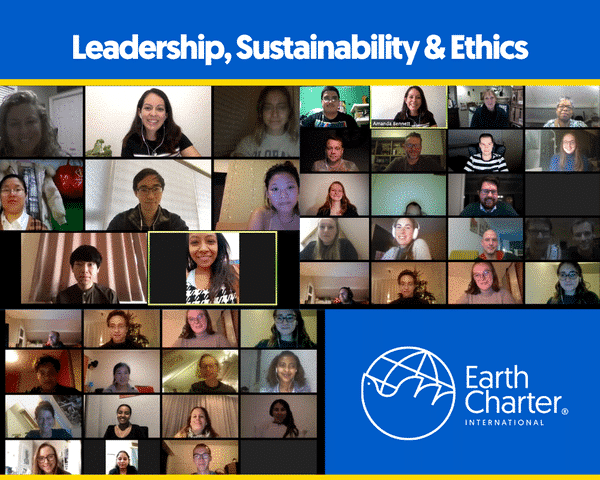 Earth Charter Youth Speed Networking Event
Earth Charter Young Leaders and alumni from the Leadership, Sustainability and Ethics course came together on 1 December 2020 to connect through virtual speed networking sessions, held twice in English and once in Spanish. By connecting with other active young people in small breakout rooms, event participants were able to reflect on how their efforts have evolved since participating in the LSE course, what motivates them to stay involved as part of a bigger Earth Charter Movement, as well as share what they have been working on this year.
This was also a space to set intentions for next year and exchange ideas on how we can continue to work together in 2021.
We would like to give a special thank you to Festus Okunlola, Earth Charter Young Leader from Nigeria, for helping us organize this event.
Learn how to get involved with the Earth Charter Youth Programme here:
https://earthcharter.org/get-involved/young-leaders-programme/