From the 1st of February to 12th of April, a group of participants from 25 different countries from all over the world worked together to expand their understanding of sustainability, leadership, and ethics.
During the first seven weeks, we discussed and learned more about the Earth Charter, Education for Sustainable Development, Systems Thinking, and how to connect that to our interests, as ethical tools in decision-making, both at individual and collective levels. The last three weeks were dedicated to the construction of workshops, with a collective sharing of tips and experiences. The participants then implemented their plans in their communities, online or in person, reaching over 150 people.
The participants brought an inspiring energy and trusting environment to the sessions. We were able to organise additional discussions, such as an informal call about privileges, moderated by one of the participants. Other inventive initiatives came out from the course. Here are the experiences of four of the participants: Valeria Carolina Santos Cilento from Venezuela, Anais Balaguer from Spain, Victor Ayegba Matthew from Nigeria, and Tamy Kobashikawa from Brazil.
Valeria:
"I dedicated the content of the workshop to a group of friends from my university. I wanted it to be a peer-to-peer conversation, since we all share the same educational background and graduated together from engineering school. My main idea was to discuss ways to add value to the industry, and offer an introduction on systems thinking to use engineering to solve big the social problems that surround us.  Together we discussed the ethics behind finding a new job in the field, and how to use our knowledge to find practical solutions in benefit of everyone. It ended up being a very enriching conversation. The LSE course for me was the perfect opportunity to rethink what I want my contribution to the world to be through my work. It was a great space to have endearing conversations and share stories with peers from around the globe."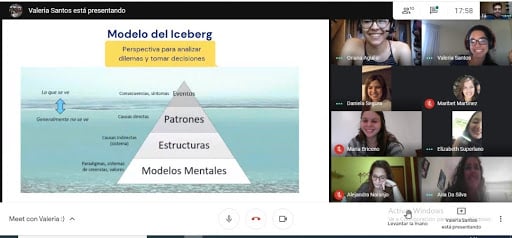 Anais:
"My workshop was on Ecological Integrity. There were twelve of us, counting myself as facilitator and a fellow biologist who was explaining facts about the fauna and flora of the wonderful national park where we went on an excursion. Some were friends of mine, others were their friends. We were a great group with different backgrounds, but interested in nature and making the world better. There, I introduced the Earth Charter, its principles, emphasizing in the "ecological integrity" pillar. I also explained the concept of system thinking and we did a small exercise. Afterwards, a debate arose about the future of the planet and we also shared ideas of small actions that we do/can do in our day to day. I am really happy that everything went better than expected. I had no challenges. People had a lot of interest in the subject. All participants contributed ideas, concepts, and interesting questions. I learned that this type of activity can be done often, easily, with a topic of interest, a small group and a desire to share.  I am excited to organise more! Through the course overall, I have learned new concepts, ways of analyzing a panorama. I have been inspired by reading projects or visions of my peers :)".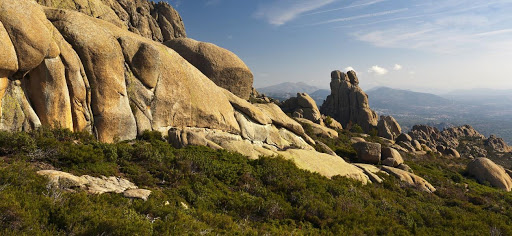 Victor:
"It was a wonderful experience yesterday giving my best to teach and facilitate the workshop in my neighborhood (Matazu Road, Nasarawa, Kaduna, Nigeria). At some point, while vividly discussing the need for Ecoliteracy and why some things happen the way they do, it was really eye-opening to both the attendees and myself and we had a great moment using cardboard papers to make reminders of better ways to make collaborative efforts to make the world a better place. I would really like to do more of these workshops and similar ones in this regard. Thank you so much to Earth Charter International and the facilitators  for the opportunities for a great mindset shift and the ability to see the world from another point of view."
Tamy:
"The workshop was done by Tais and I, both collaborators at Soka Institute for Amazon Environmental Research and Studies in Brazil. We did the workshop for all collaborators, with the purpose to cultivate the Earth Charter principles into each project developed in the institute. The workshop went great: everyone was active, asking questions, and participating in each activity with no pressure. We learned which principles we already apply and how we are working with the Earth Charter principles and values. We intend to keep applying them into our work. The LSE course has been a great opportunity to foster young ethical leaders with a sustainable viewpoint. In a self-paced environment, the programme introduces pivotal concepts and tools to use in a practical way. Moreover, I could hear about youth initiatives around the world, which inspired me to act even more in my community".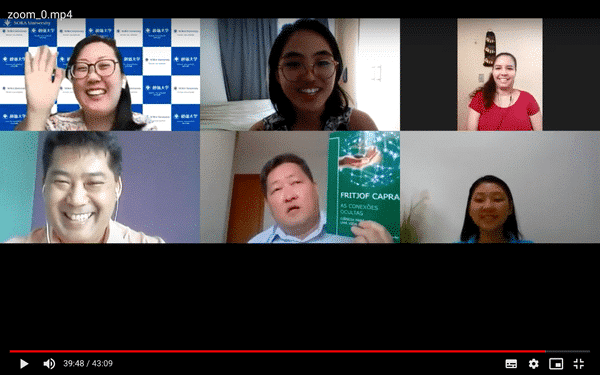 We also want to give a special thank you to Earth Charter Young Leaders Emma Feyeux, Upasana Yadav, Daniel Cohen Stuart, and Katharina Braun, and to Earth Charter friend Dirk Van Der Ven for helping us as co-facilitators !
The course will be conducted again in 2021, in Spanish and in English: Join the movement!

Are you interested in funding scholarships for future LSE participants? You can now contribute to this project by donating our crowdfunding campaign: https://gofund.me/01821e97