Introduction to Systems Thinking Course Brochure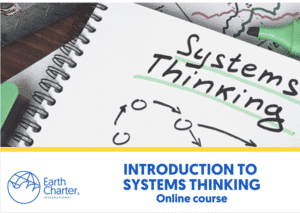 The Introduction to Systems Thinking course brings together people who are motivated to influence or lead systems, not just organizations. It equips participants with the ability to recognize the systems that they are a part of, its constituents, the purpose that binds them together, and the places to intervene in the system.
The course will:
build individual and organizational capacity to address the systemic problems and challenges in their contexts;
provide participants an opportunity to develop habits to see the whole, not just the parts; and
enhance participants' capacities to become systems leaders able to help their organizations to discover meaningful missions that will contribute to planetary well-being.
This course has live sessions every Tuesday that are recorded for those who might not be able to attend.
Author:
Earth Charter International