Bjørn Heyerdahl is an active explorer, environmentalist, biospheric designer, internationally renowned speaker; consultant on humanitarian, environmental and development issues, and he is a Viking… an Earth Charter Viking.
Bjørn descends from a lineage of Vikings dating back to 812 AD and he surely represents this heritage. He is also the grandson of the Norwegian explorer and writer Thor Heyerdahl who led the Kon-Tiki Expedition, a journey by raft that went across the Pacific Ocean from South America to the Polynesian islands in 1947.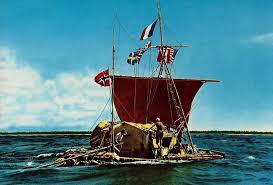 Bjørn's passion for finding solutions and working models of intelligent sustainable human habitation lead to the launching of the Midgard Expedition in 2003.
In 2020, The Midgard Expedition will sail under the Earth Charter flag inspired by the efficiency, design, earth-friendly materials and zero waste of Viking longboats, and the courage of the intrepid Vikings who built and sailed them.
Bjorn and his crew have built the research vessel RV 'Midgard Herron' that will travel with a crew of diverse scientists, explorers and sustainability specialists, studying how different communities implement sustainable practices and lifestyles.
Watch this video about the Midgard Expedition.
Bjørn's Intention is to grow global ecological and ethical awareness on what can be done now in response to the collapse of life support systems; and to elevate adults and youth to strong, ethical leaders through adventure, documentary, education, inspiration and setting an example to follow.
"There is a need of backbone, of 'vikingness', of the unapologetic drive to take the message and the culture that is now required to see this through. I am always talking about turning the Earth Charter principles into action. We have an extremely 'soft' impulse – to nurture and understand one another- and we have to balance it with a strong drive to make things happen. Like the Vikings did. We have to stop apologizing and engage all those who are wittingly or unwittingly doing huge damage to the planet. To meet them with a loud voice and to go out there and to bring them into being a living alternative model, a new economic model. And that to me that is the Midgard Expedition. These Vikings are here to promote this new ethics and this new global culture".
Before Midgard
Bjørn studied human nature in the hardest of workshops. It was during his six-year sentence to detention and community service as a conscientious objector in the mid-eighties in apartheid South Africa that he began to explore firsthand the nature of organizations and the individuals within them. This interest led to further, more formal, research and study, and ultimately the development and launch of a series of personal, corporate, and community development programs.
Bjørn is currently involved in the life of the Midgard community of consultants in green or Biospheric design, program development, facilitation and consulting with numerous public and private organizations and individuals. These include South Africa's leading financial, property, transport agricultural, printing, import and export houses, as well as national media and communications networks, electricity distribution and management selection groups, who all enjoy his empathetic and personalized approach.
Bjørn is married to Alison who works with him and is part of the Midgard Expedition team, and is the father of 5 children. He is an Earth Charter champion, an amateur musician, enjoys mountaineering, archery, exploring, wildlife and long-distance swimming.