Earth Ethics Institute is an Earth Literacy resource center at Miami Dade College (MDC). Our mission is to foster Earth Literacy in the course objectives of each discipline and all campus operations at Miami Dade College, as well as in the South Florida community and the extended Earth community beyond. Earth Literacy offers ever-greater understanding of the evolution of the Universe and the interconnectedness of all being. Rooted in evidence-based knowledge, this cosmological context informs a worldview, guides all fields of study, and inspires social change. Earth Literacy recognizes Earth as educator and honors the wisdom found in Earth systems as well as the mystery and numinous beauty within the Universe. Earth Literacy allows us to discover our role within the story of Earth and the Universe, transforming our beliefs and actions so as to create mutually enhancing, sustainable, resilient relationships with Earth's community of life. 
We work with the College's Center for Institutional and Organizational Learning to offer professional development for faculty, who are then empowered to infuse topics of Earth Literacy and environmental sustainability into their classes, regardless of the discipline. Global Sustainability and Earth Literacy Studies (GSELS) is our flagship program and offers Miami Dade College students the opportunity to be recognized as GSELS Scholars. We offer context and infrastructure for faculty to employ such high-impact pedagogies as faculty learning communities, project-based learning, and academic service-learning. Earth Ethics Institute is part of the Office of Changemaking Education and Social Innovation (CESI) at the College and as such, we work to empower students to make positive changes in their neighborhoods and communities.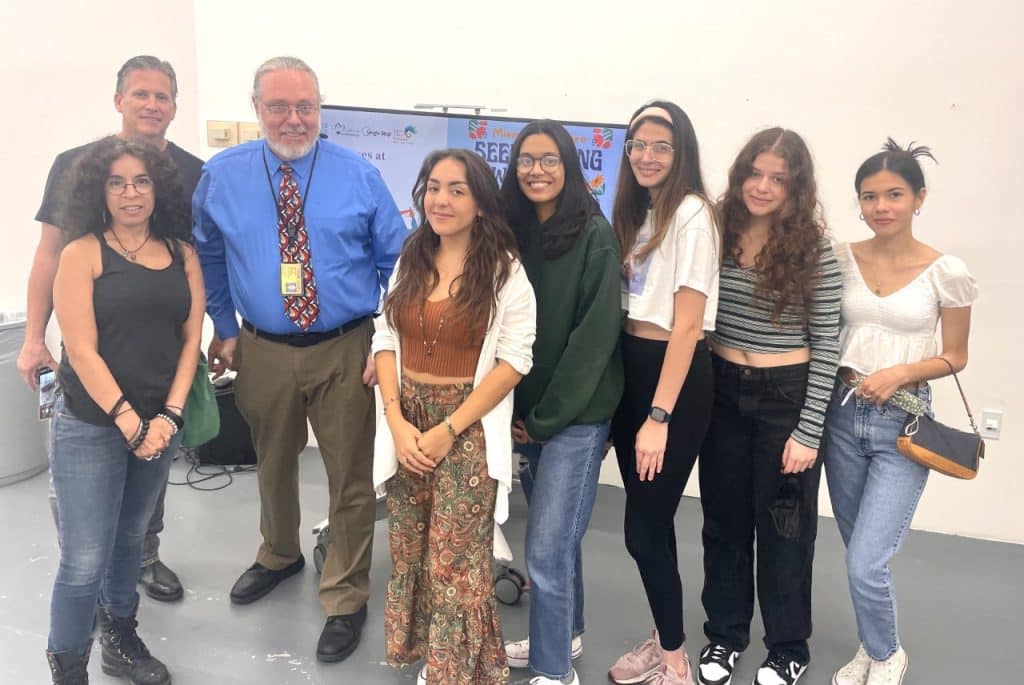 Our work in Earth Literacy is influenced by such noted scholars as Thomas Berry, Brian Swimme, Fritjof Capra, and Mary Evelyn Tucker. Additional influences include the philosophies of deep ecology and non-duality, and such documents as the Earth Charter and the United Nations Sustainable Development Goals. Sister organizations outside of Miami Dade College that share a similar interest in Earth Literacy include the Narrow Ridge Earth Literacy Center in Washburn, TN, and Genesis Farm in Blairstown, NJ.
Earth Ethics Institute offers many of the most popular professional development opportunities for faculty at Miami Dade College. As noted above, we work with the Center for Institutional and Organizational Learning to offer workshops, immersions (field trips), and discussion series through which Miami Dade College faculty may earn credit toward maintenance of rank and promotion. These offerings touch on not only environmental concerns, but also equity, diversity, and the need for a just and fair economy. Our professional development gives College faculty the opportunity to earn GSELS-Certified faculty status, allowing them to be part of the GSELS learning network.
GSELS provides inclusive educational opportunities for the Miami Dade College community to explore global citizenship, ecological sustainability, and civic engagement through understanding planetary challenges and limits and by developing values, skills, and behaviors that promote prosperity and communities of well-being. Participating faculty in any discipline at the College designate their classes as being GSELS-Related (one major lesson plan or module addresses Earth Literacy and sustainability) or GSELS-Focused (the entire class is presented through the lens of Earth Literacy and sustainability). GSELS criteria for inclusion serve as learning objectives and are based on the Earth Charter. Since the 2013 pilot, there have been more than 3,000 GSELS classes offered at the College and more than 60,000 students have taken at least one GSELS-designated class. In addition to administrating GSELS, Earth Ethics Institute supports the program through the Campus Learning Community, GSELS Projects Showcase, various symposia, fairs and events, and service opportunities for students.
Miami Dade College supports the use of high-impact pedagogies that have been shown to improve student engagement and learning. Earth Ethics Institute, as part of MDC's changemaking efforts, offers context for integrating real-world issues and problems into classrooms, helping to make the class content more relevant and meaningful to students. Experiential, or hands-on, teaching practices also are promoted, such as academic service-learning and project-based learning. We believe that beyond just our mission of fostering Earth Literacy, we also help participating MDC faculty to be better teachers by offering them a framework that makes it easy for them to employ high-impact practices as we support MDC initiatives that promote these practices.
Changemaking is rooted in MDC's history and is at the heart of who we are as an educational institution. We were honored to be designated an Ashoka U Changemaker Campus in 2015. This distinction placed us among a group of leading institutions recognized for their efforts in changemaker education and social innovation. Earth Ethics Institute believes that the shift in worldview brought about through our Earth Literacy programming will inspire positive, transformative change and enable Miami Dade College students to be leaders in sustainability, resilience, green infrastructure, and the new green economy, and be true changemakers in our community. To learn more about Earth Ethics Institute, GSELS, and/or changemaking at Miami Dade College, please visit us at www.earthethicsinstitute.org or contact Collegewide Director Mike Matthews at [email protected] / (305)237-3796.